Product Description
Personalised Silicone Wristbands
Personalised silicone wristbands are a perfect way to promote sports teams, schools, charity campaigns and more. Due to their low cost they can be used as promotional gifts, fundraising ideas for charities and even membership bracelets at gyms.
They are water resistant, comfortable and durable. Choose from a variety of styles, customisations and colours.
Product features:
Different styles to choose:
Various sizes: Adult (202mm), Youth 180mm, Toddler 150mm
Various widths: 12mm or extra wide 25mm
Personalise your message and font
Choose from our popular stock colours, or use your own preferred Pantone colour
Extra options: Glitter, Glow in the dark, individually packaged
Free design and no set-up fee
Free UK Delivery
Popular uses of personalised Silicone Wristbands:
Plain silicone wristbands for schools to help manage school dinners
Fundraising – raising awareness of and supporting important causes
Promoting events or as a keepsake for those attending or taking part on "I was there!"
As a free giveaway to your customers or supports
To keep track of groups of children on school trips, group outings, or at events
For sporting events to split people into teams or groups
As a fashion accessory to support your favourite music band, artist or celebrity
To manage access and safety for swimming pools or gyms
Silicone wristbands for diabetics or those with serious allergies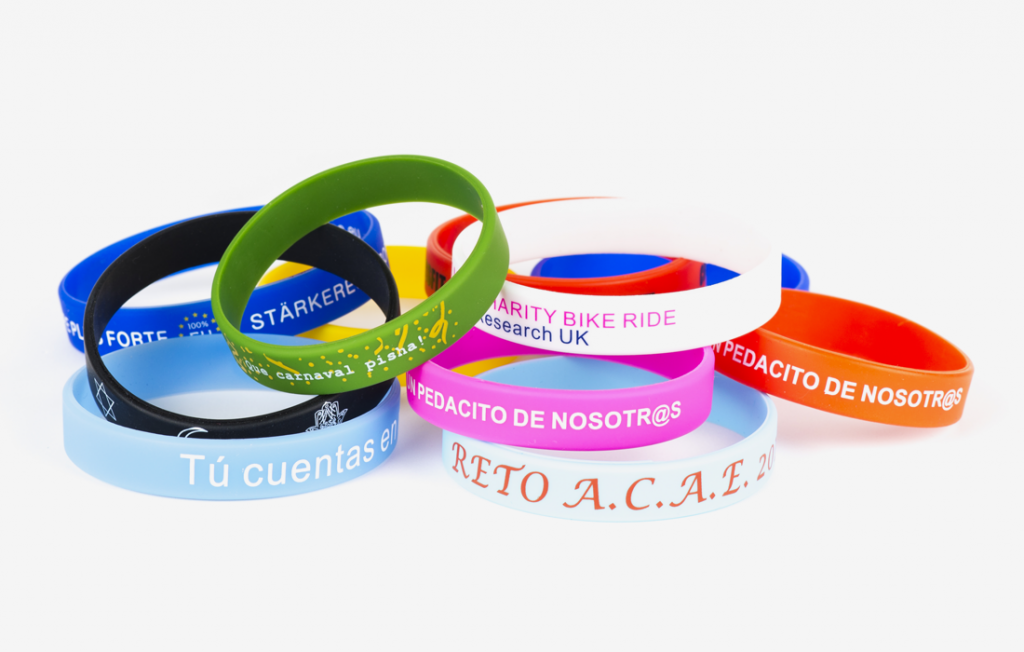 Different styles to choose
Choose from different customisation styles: Embossed, Debossed Printed, Ink-filled, Swirl and Segmented. You can add up to 3 colours to create a stunning, eye-catching design. Want something a bit funky or fun? Add glitter or glow-in-the-dark for parties and festivals!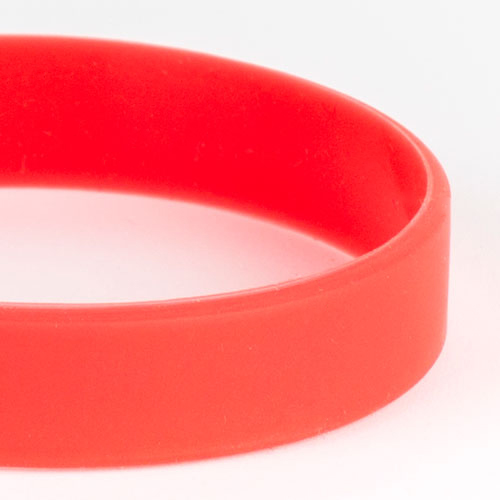 Plain Silicone Wristbands
Plain Wristbands are made with a blank mould. Although they do not include a message or design they can be customised using our extensive range of colours or with a specific Pantone colour of your choice at no additional cost. For multicolour please message our Sales Team will be able to discuss options.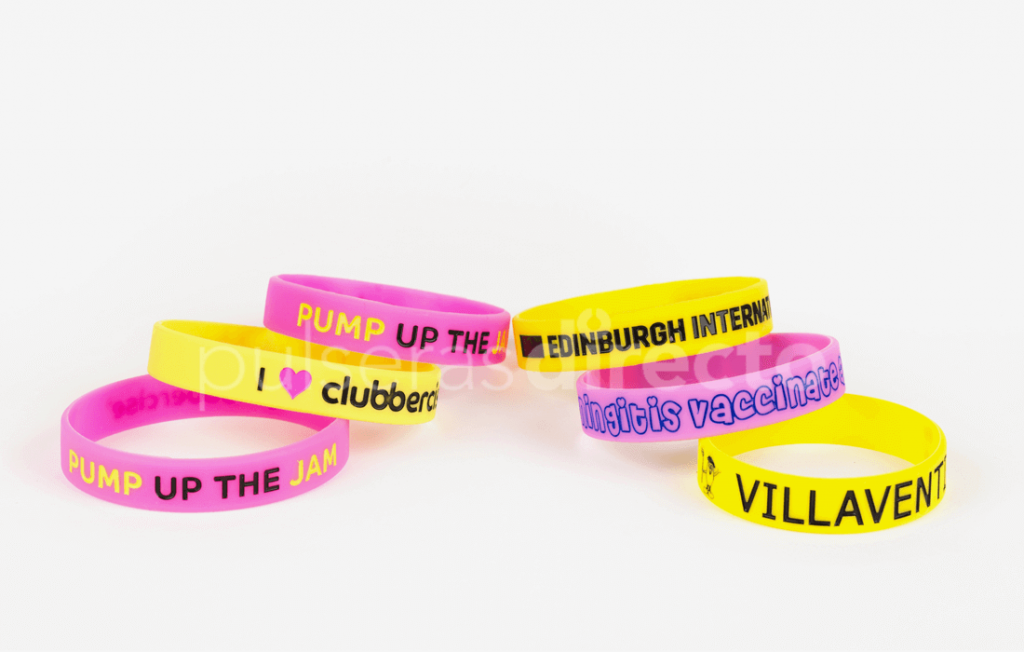 Printed Silicone Wristbands
A fantastic value for money option. Your message, organisation details or logo can be printed on the Wristband with a high-quality finish. Designs can be complex and even include your logo or branding.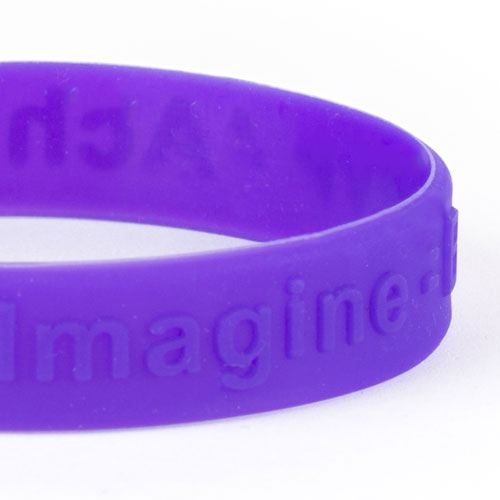 Embossed Silicone Wristbands
Engraved message and design but at a relatively low price, makes Embossed Silicone Wristbands a fantastic and very popular choice. Your logo or branding and a personal message can be engraved with high relief letters (i.e. stick up off the Wristband).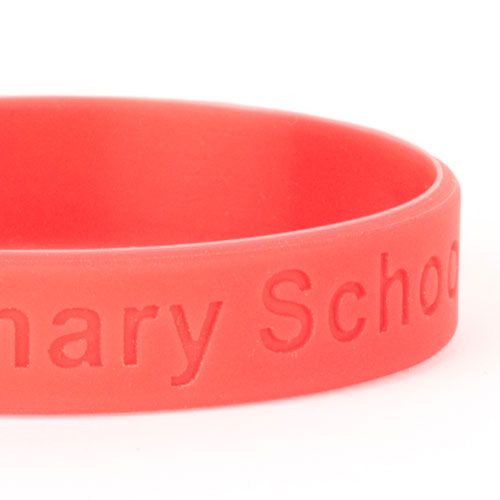 Debossed Silicone Wristband
Debossed Wristbands are made with low relief engraved letters. The letters and design are engraved into the silicone itself. These Wristband are very resistant to wear and therefore long lasting.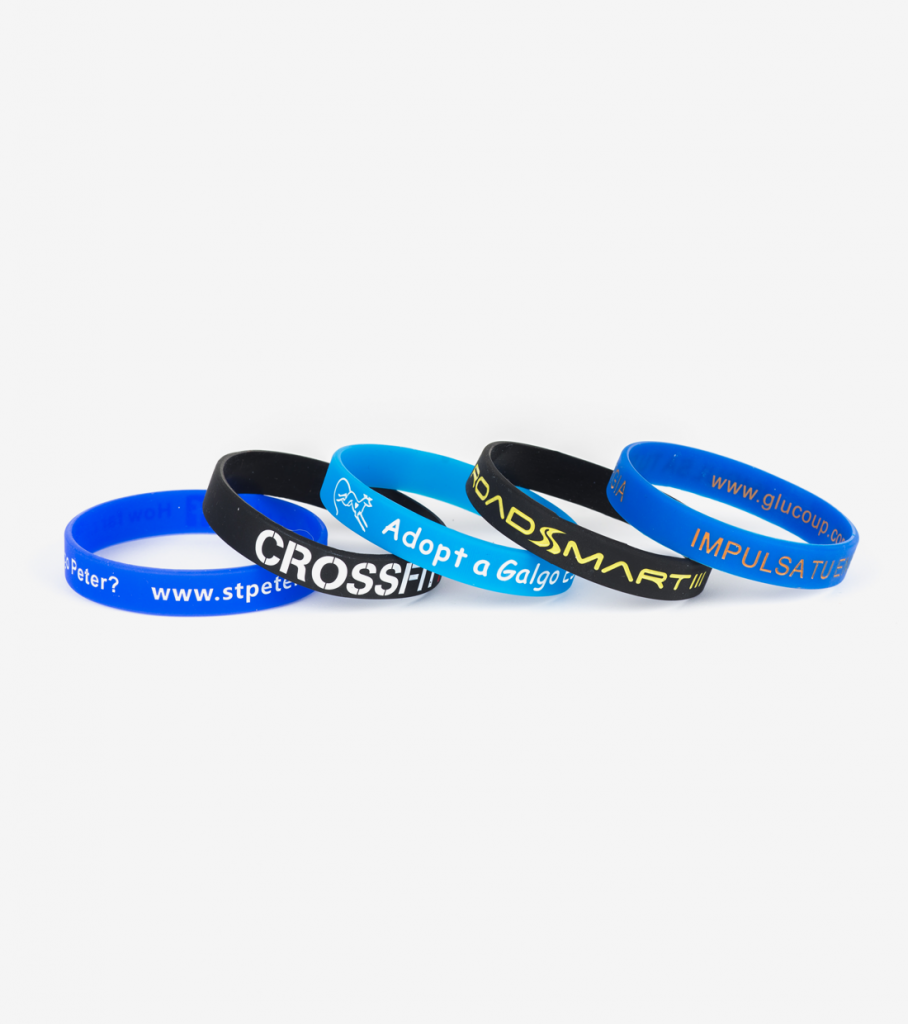 Debossed Ink Filled Silicone Wristbands
Our most popular customised Silicone Wristband. The letters are engraved with a low relief mould and filled with ink to create a really colourful and eye-catching contrast. As the ink is filled within a low relief the wristbands are surprisingly durable.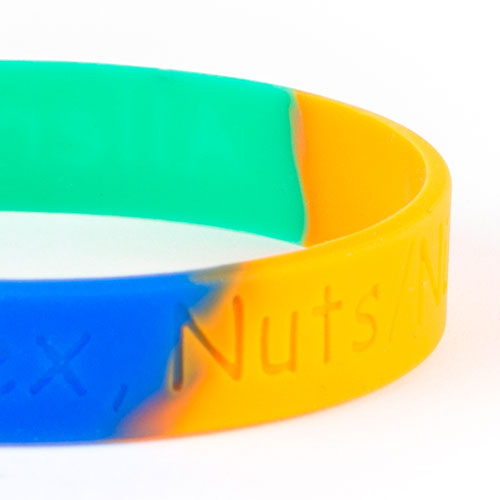 Segmented Silicone Wristbands
Segmented Silicone Wristbands are colourful and eye-catching and can be made with up to 3-colour segments. They can be customised with all the styles of above: Plain, Printed, Embossed and Debossed.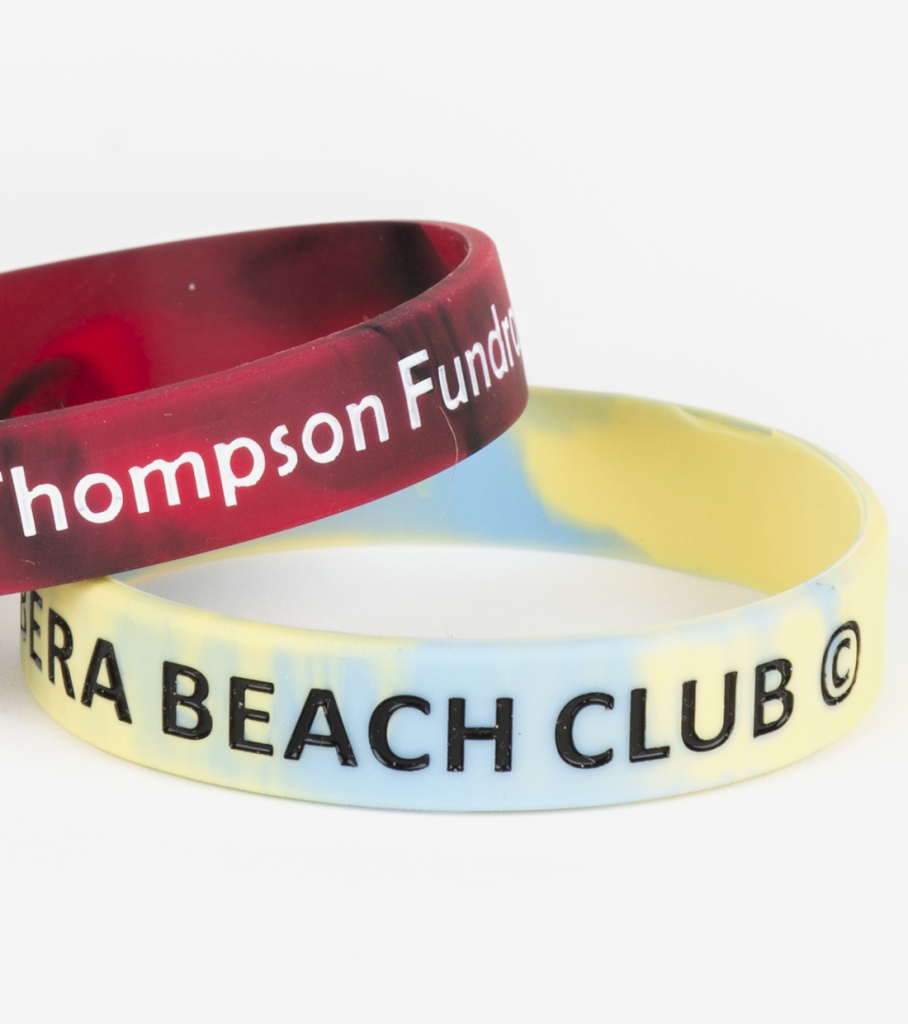 Swirl Silicone Wristbands
Swirl Silicone Wristbands are made using up to three mixed colours to create a swirl effect throughout silicone. Like segmented wristbands, they can be customised with all the styles of wristbands above: Plain, Printed, Embossed and Debossed. They are sure to grab attention!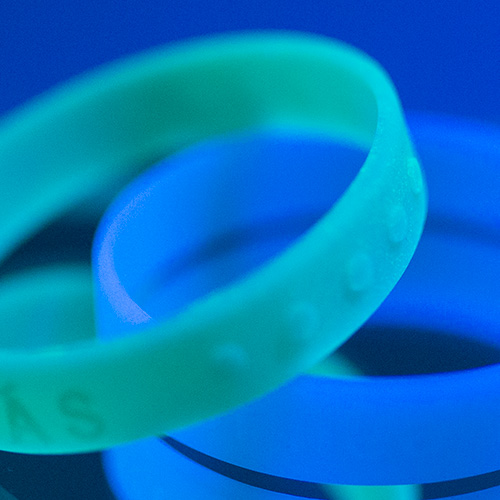 Silicone Wristbands that Glow in the Dark
We have a wide range of colours that glow in the dark, although the glow effect is in light green. Glow in the dark wristbands can be customised like the previous styles: Plain, Printed, Embossed and Debossed. They are a good choice for student and birthday parties, festivals, or Halloween events. Kids love them!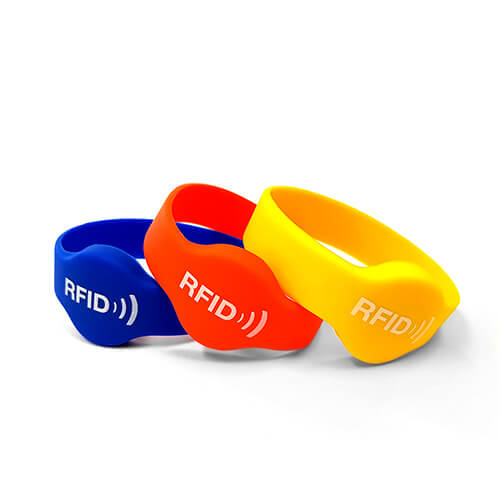 RFID Wristbands
If you are looking for reusable RFID Silicone Wristbands, we have a wide selection to choose from. Perfect for managing access to business premises, exhibitions, conferences, and other events where security is important. Visit our RFID Silicone Wristbands page for more information or contact our Sales Team for a personalised quote.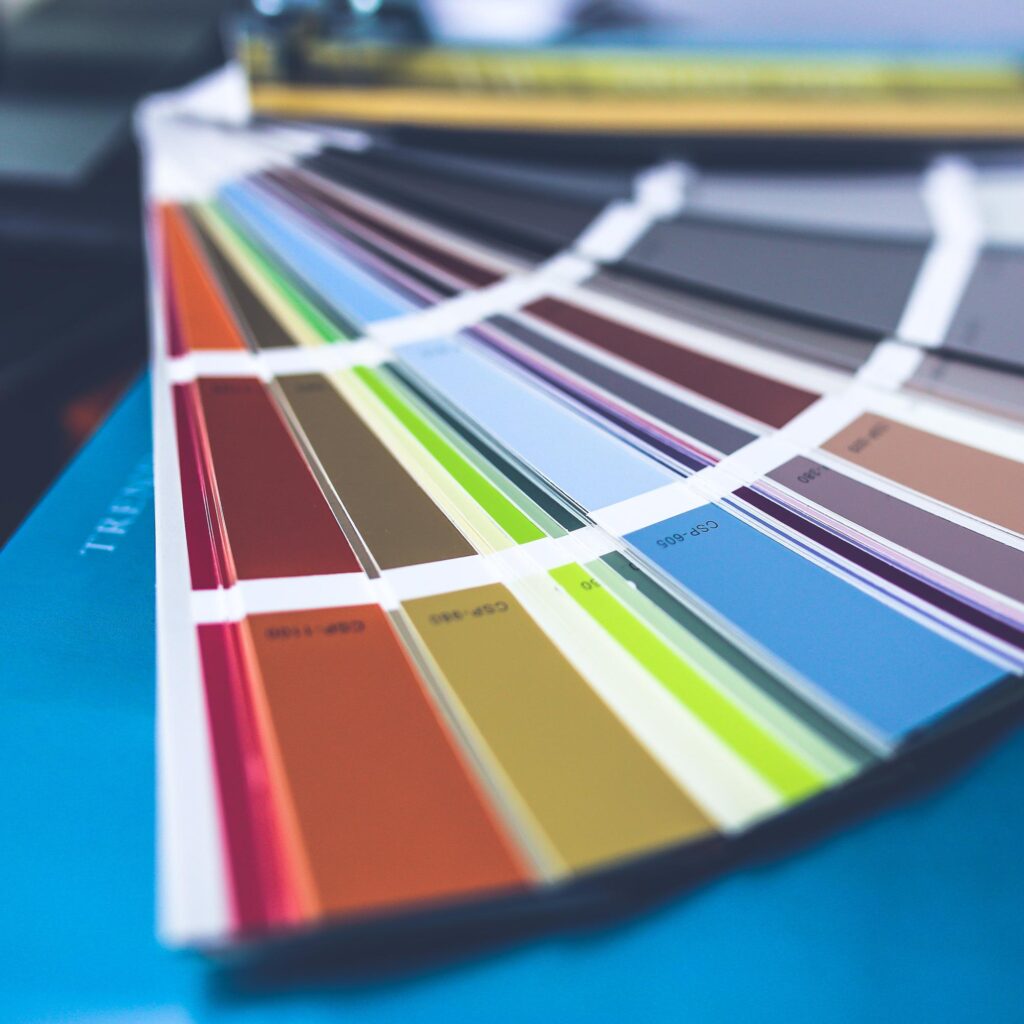 100% Customisable
Wide range of colours and fonts. Design your personalised Silicone Wristband with your logo, brand or message in any colour you choose! Choosing from the most popular fonts you can create a design that is truly unique and distinctive.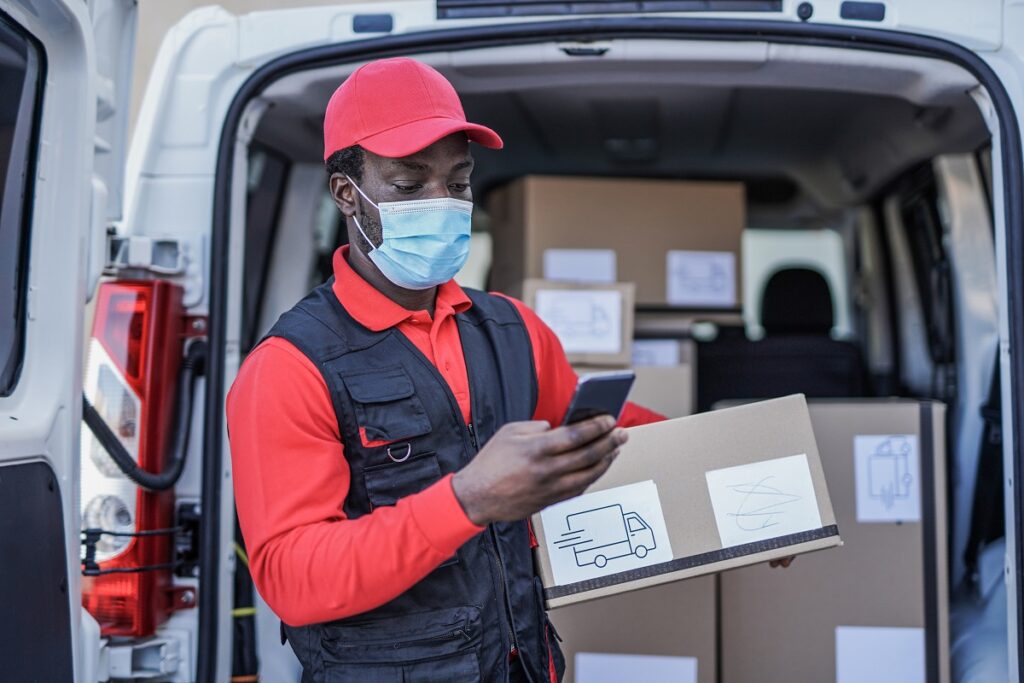 How do we work?
Place your order with all your customisation options and artwork and our Sales Team will provide a digital proof for your approval. Once reviewed and approved, your order will go into our production process and when manufactured will be delivered to your door via our Partner Couriers. We will keep you informed at each step of the process and you can track your order after it is despatched.