In this blog we explore how Silicone Wristbands are ideal for schools and can help make school dinners more cost-efficient, to keep track of pupils or to celebrate achievement and hard work. Wristbands are fun to wear, great value for money and very durable and perfect in the education environment.

Using Silicone Wristbands for Schools
Our school customers use Wristbands for lots of reasons. Some very wacky! However, they tend to be used for:
Managing School dinners. Your pupils can be given different coloured wristbands depending on the lunch they have ordered. This avoids pupils being deprived of a lunch they have ordered (eaten by someone else who has changed their mind on the day!), speeds up serving, and ultimately reduces food waste. Reducing your costs which is always a good thing.
For School trips. When your pupils leave your premises they can wear a wristband to help with identification and to easily gain access to places being visited and services offered. When personalised with your school name and emblem your pupils will wear them with pride.
To celebrate and reward success, achievement and effort. Recognising achievement or hard work is very important for our young people and they can easily wear a Wristband and feel proud of the recognition.
To be honest, kids just love wristbands regardless of why they are being worn so you know that they will not go to waste. They are also very hygienic and easily was washable!
Plain Silicone Wristbands for schools or personalised Wristbands
Our School customers often use plain Silicone Wristbands for schools for managing school dinners as they are the most economical. However, for school trips or to reward success or achievement you may want to personalise them. As Wristbands can come in multiple styles and colours you can easily include the name of your school and an emblem or logo.
You can also include a personal message that is unique to your school. In fact, we have stock bands that include special messages such as Gold, Silver & Bronze Award and Spelling Superstar! You can create any message you like though subject only to the space available.

What design options do I have?
If you are looking for Silicone Wristbands that are personalised in some way, then there are lots of options. We are able to take your personal message and create a design with the font size and style you love. We can also add a logo or emblem and all we ask is you to provide a good quality image that we can use to incorporate in the design.
We don't charge anything for design or design set-up so you can get as creative as you like! We obviously want you to get a design that is memorable, fun and loved by the wearer.
If you need some inspiration, then let our expert design team help. They have been helping schools customers for many years, up and down the Country, to create memorable designs and select the most appropriate styles.
Types of Wristbands?
We specialise in two types of Wristbands – high-quality pure Silicone Wristbands and Fabric Wristbands (Sublimated and Woven). However, it tends to be Silicone Wristbands that are most useful for schools. Fabric Wristbands tend to be popular with those organising large events and festivals.
Silicone Wristbands either come plain or personalised. Plain Wristbands come in a variety of stock colours or you can, if you wish, order them in any colour you prefer although these need to be made to order. Obviously, plain Wristbands have no design added and are just one solid colour throughout.
When personalised Silicone Wristbands can be printed or debossed (the design is etched into the Wristband) or embossed when the design is popped out. You can also have a swirl effect using or segmented using up to three colours., as well as ink filled where the debossed design is filled with ink. These are particularly eye-catching.
Printed Wristbands use a basic printing technique to print the design onto the Wristband. They are relatively inexpensive and ideal if you are working to a budget and the Wristband is not expected to be worn for very long. The print will eventually deteriorate with friction and wear.
Do you have sizes suitable for toddlers and young children?
Our Silicone Wristbands for schools also available in different sizes. Toddler (150mm), Youth (180mm) and Adult (202mm). So whether you have toddlers in your reception class, infants or event big kids we have suitable sizes to make sure the Wristband feels comfortable; neither too tight or able to slide off the wrist unexpectedly!
If you are not sure which size is most appropriate for your needs simply call our expert customer service team who will be happy to guide you.
How long will the Wristbands take to arrive?
This really depends on the style of the Wristband but if you need something for a very specific date (e.g. event) then you are best to plan ahead as personalised Wristbands are manufactured to order.
For plain Silicone Wristbands, we have a good stock available for next day delivery from our range of standard colours. We also have a good stock of the speciality Wristbands we mentioned above such as Gold Award and Spelling Superstar.
If you want to choose a specific colour or choose a personalised style then we usually say 10-12 working days from the date the artwork is approved by you through to delivery. Still pretty quick though!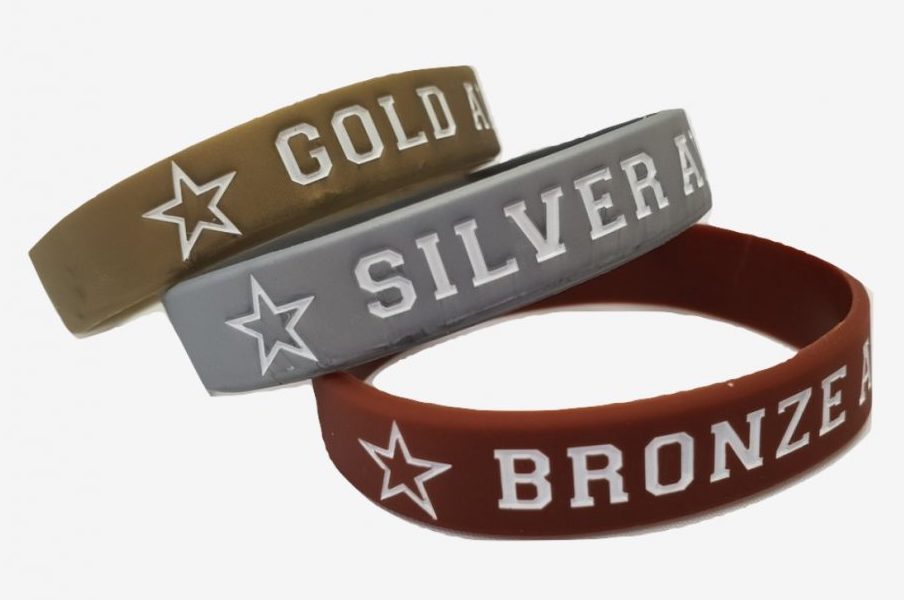 How is the price made up for Silicone Wristbands for schools and Fabric Wristbands?
As with many printed and manufactured products, the unit price does go down with volume. The more you buy the cheaper it becomes. This reduction in volume reflects that there is manufacturing set up process whether you want 10 Wristbands or 10,000 and it is cheaper to ship in bulk.
However, we realise that Schools come in all sizes too, so buying in bulk may not always be possible. We do keep our prices for lower volumes as low as we possibly can for our school customers to recognise this challenge and we regularly run exclusive discount options as well as special pricing arrangements for regular orders and returning customers. To keep up to date with our exclusive offers then SIGN-UP to our email newsletter or follow us on Facebook or Twitter.
Not only that, we also offer all our School Customers 30-day credit account with an invoice as we realise the payment is often made by the Local Authority or the trust or academy's central finance department.
[vc_row content_placement="middle" thb_divider_position="bottom" css=".vc_custom_1592477292124{background-color: #f6f6f6 !important;}"][vc_column width="2/3″ css=".vc_custom_1592477645861{margin-left: 25px !important;}"][vc_column_text]
Try Our Silicone Wristbands Designer Tool
[/vc_column_text][vc_btn title="Design your product" shape="square" color="danger" size="lg" link="url:%2Fshop%2Fpersonalised-silicone-wristbands%2F%3Futm_source%3Dblog%26utm_medium%3Dcta%26utm_campaign%3Dsilicone|||"][/vc_column][vc_column width="1/3″][thb_image alignment="aligncenter" image="6112″ img_link="url:%2Fshop%2Fpersonalised-silicone-wristbands%2F%3Futm_source%3Dblog%26utm_medium%3Dcta%26utm_campaign%3Dsilicone|||" img_size="medium"][/thb_image][/vc_column][/vc_row]