Silicone wristbands are a popular choice when it comes to events, charities and schools. They are versatile, customisable and offer many uses, making them an excellent choice for almost anything. They come in a range of styles and colours and you can even get glow in the dark wristbands, which have a whole load of benefits of their own. In fact, here are 4 reasons you may want to use custom glow in the dark wristbands.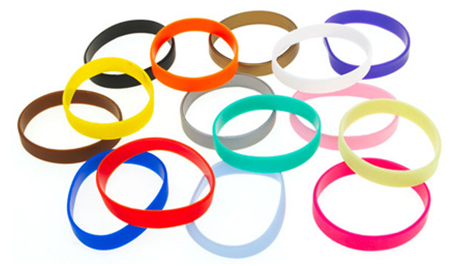 1. They're Great for Parties
Parties often involve a darkened atmosphere, with UV lighting, meaning that glow in the dark items stand out better than ever. Be it a children's disco, an adult nightclub event or a festival, glow in the dark bands find their time to shine. A truly unique gift or piece of merchandise, these bands go down well with people of all ages.
2. They're Fun for Children
Children love wearing silicone wristbands and they love glow in the dark items too. When you combine them, you can be sure children will wear them all day and night! The glow element adds a factor of fun for children and ensures that they will be used time and time again.
3. They Can be Used for Safety
In a darker atmosphere, such as a party or at a festival, it can be hard to keep on eye on excitable children. Fluorescent/glow in the dark wristbands are a great way to ensure you can always spot them and helps to make keeping an eye on them that bit easier.
4. They're Great for Themed Events
Silicone wristbands are often used for events, especially as a keepsake, thank you gift or item of merchandise. Glow in the dark bands are perfect for certain themed events, making them even more special. For example, Halloween events can make great use of the fluorescent effect for a spooky message, image or simply an eerie glow.
If you're interested in custom silicone wristbands in a range of styles, then contact us at Silicone Wristbands Direct today for more information. Our friendly team are on hand and happy to help.
[vc_row content_placement="middle" thb_divider_position="bottom" css=".vc_custom_1592477292124{background-color: #f6f6f6 !important;}"][vc_column width="2/3″ css=".vc_custom_1592477645861{margin-left: 25px !important;}"][vc_column_text]
Try Our Silicone Wristbands Designer Tool
[/vc_column_text][vc_btn title="Design your product" shape="square" color="danger" size="lg" link="url:%2Fshop%2Fpersonalised-silicone-wristbands%2F%3Futm_source%3Dblog%26utm_medium%3Dcta%26utm_campaign%3Dsilicone|||"][/vc_column][vc_column width="1/3″][thb_image alignment="aligncenter" image="6112″ img_link="url:%2Fshop%2Fpersonalised-silicone-wristbands%2F%3Futm_source%3Dblog%26utm_medium%3Dcta%26utm_campaign%3Dsilicone|||" img_size="medium"][/thb_image][/vc_column][/vc_row]