Christmas is a time for fun, giving presents (and receiving them hopefully!) and spending quality time with friends and family. It is a time to kick back and relax and perhaps overindulge a little!

However, sadly for many Christmas is an especially challenging time. Those that suffer from physical or mental illness or abuse, those facing poverty or social exclusion. Let us also not forget our planet that is impacted by our over-indulgences!

So our team at Silicone Wristbands Direct was chatting about this and saying that we should make a small gesture and give a donation to charity this Christmas. However, we were struggling to choose the Charity we would support given the fact that we already have many Charity and Not-For-Profit customers and it felt a little unfair us supporting one rather than them all.

So this is where you come in!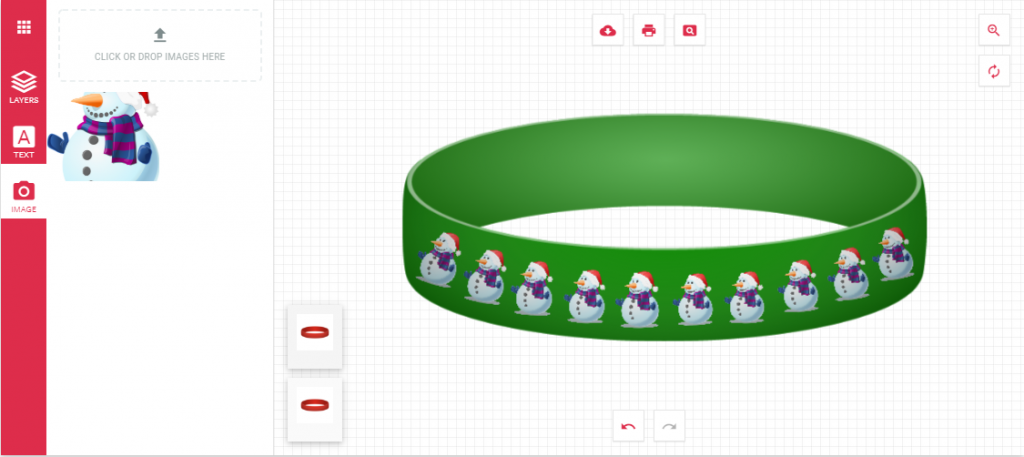 Win our Charity Christmas Wristband Design Competition
Our competition is the perfect opportunity to get creative or to spend fun time with the kids when the weather outside is cold, wet and miserable. Let them loose designing their own festive silicone wristband!

With our Design your Own Wristband tool you can easily create your own unique and truly distinctive personalised Silicone Wristband. This gave us a thought for our charity fundraising competition. Create your own festive Wristband design using our Wristband designer tool and send it to us as your competition entry. We will then pick the winner and send £100 to a charity of the winner's choice. So, have some fun and help do some good at the same time.
Don't worry if you have a full classroom or group of kids. If you submit their designs we will include them all in the Competition draw.

To enter our competition, please follow these simple steps below.  Closing dates for entry is 23 December 2019.

Step 1
Create your own festive Silicone Wristband design using our wristband designer tool.  Get truly creative and design something artistic or that spreads an important message you care about that focuses on the welfare of others, pets, nature or the planet more broadly. 

Step 2
Once you have created your design, take a screen grab of the design and the designer tool (see our example below to give you an idea of what we are after) and email this to sales@siliconewristbandsdirect.co.uk.  Include the name of your chosen Charity in your email and if possible provide the website address for your chosen Charity just so we can be sure we have the correct one.

If you prefer, you can also send us your image and charity details via our Facebook Page or via our Contact Us page. You can also simply click the Request a Quote button at the end of the Designer Tool and make a note as shown below that you are entering the competition and the name of your chosen charity. Don't worry, you don't have to complete any other information.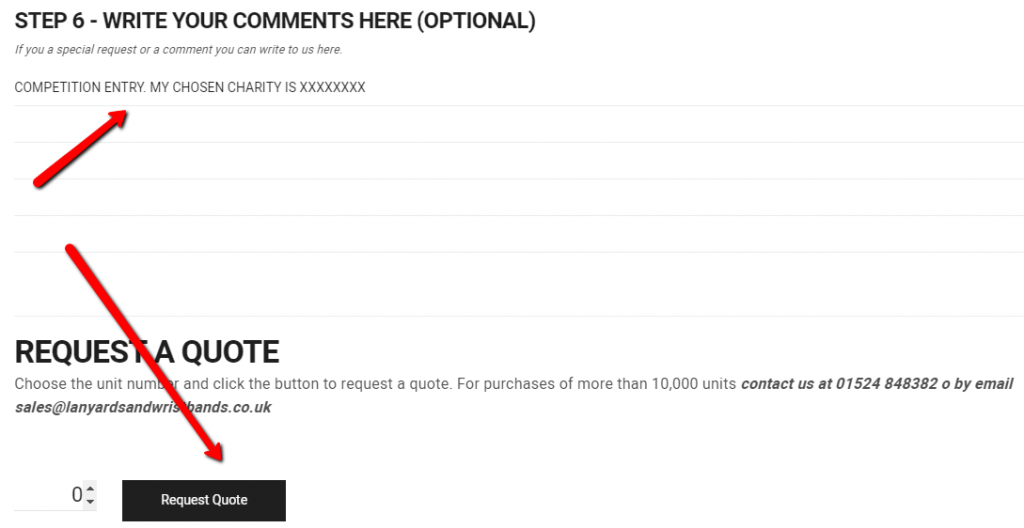 We will then email you back to confirm receipt of your entry and to double-check we have the correct charity of your choice.

Closing date for entries is the 23 December 2019.
Step 3
Will choose what we think is the most creative and festive design that captures the spirit of Christmas as the winner. We will then announce the winner and their charity of choice on the 8th January 2020.
Terms & Conditions of Entry
Please do not use naughty or offensive words or pictures as we will not be able to accept your entry.
The Charity of your choice must be a UK registered Charity, registered with the Charity Commission. You can find your charity HERE.
By entering our competition you agree that we can share your design image and charity of choice on our website and Social Media. We will not share your name unless you expressly agree. Nor will we share your personal details with other third party organisations. Please see our Privacy Policy
---