Customised Silicone Wristbands can be used for any purpose, but we've found that charities and schools are some of our most regular customers and they love them! Here are a few ways in which our customised silicone wristbands benefit the organisations we work with.
Why Do Charities Use Customised Silicone Wristbands?
Colourful, comfortable and fully customisable, the silicone wristband has been a favourite tool of fundraisers for years. A fashionable and practical alternative to the enamel pins and ribbons of yesteryear, these bendy bracelets show support for causes big and small. They're affordable too, and that means more money going to the charities that do such good work for our communities and for society as a whole.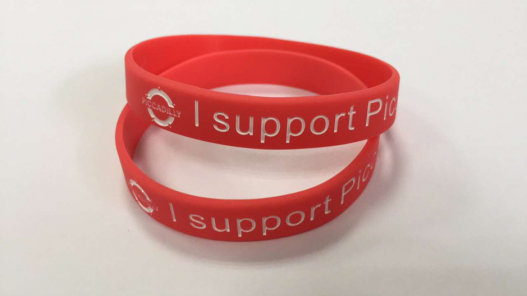 When Did Silicone Wristbands Get So Popular?
The Live Strong Foundation launched their hugely successful charity bands in 2004, bright yellow with the debossed message "LIVESTRONG" – They were a strikingly effective fund-raising product for people affected by cancer.
While by no means the first, they remain one of the most successful examples of a product-based fundraising campaign. Since then, charities all over the world have used silicone wristbands to promote their causes; We here at Silicone Wristbands Direct have supplied groups set on stamping out racism and bullying as well as people raising money and awareness for diseases and disasters.
How Do Customised Silicone Wristbands Benefit Schools?
 Keeping Track
The flexible, durable and colourful wristbands are a natural fit for school children, and have a range of different uses. Plain or personalised bands in bold colours are ideal for lunchtimes and breaks, where meal choices and dietary requirements can be easily identified at a glance. Silicone Wristbands Direct are proud to supply a great number of schools and academies with plain bands to help keep track during staggered break times and lunch options.
Safety first
A red wristband with "ALLERGY" printed in big, bold writing is hard to miss and can be life-saving for a child with a severe food allergy. You can even have the specific allergy and emergency information debossed into the band, just in case.
Out and About
 School trips can be stressful at the best of times, but having emergency contact details printed on a handy wristband can take some of that worry away. With something as simple as a phone number embossed on it, the wristband becomes a wearable reminder for any child that wanders off, or a concerned adult. Similarly, sports teams playing away games can be spotted quickly and easily by members of staff, saving the need to issue guest passes, simply coordinate with the other schools in your area and let them know your pupils will be sporting stylish bracelets in your School's colours.

Reward Success & Achievement
A customised silicone wristband can be a great incentive for pupils and students, to be worn with pride by Star Readers, Mathletes and Super Spellers.
Band Together
A sense of community is something that can help children develop confidence and form strong bonds. Being a member of a school house or team fosters this sense of belonging, and what better way to show this than with something discreet but identifiable like personalised wristbands in house colours with the house name or motto on them? Perhaps even the Class of 2019 for those leaving school this year!
They're Affordable
Schools are facing increased pressure with smaller and smaller budgets, but customised wristbands for schools can help you get the most out of every penny. A low-cost silicone wristband can last a lifetime, and depending on the message they can be reused year after year. We include a free design service and UK delivery on customised wristbands, and free next day delivery on our plain wristbands. Even in smaller quantities, our personalised wristbands present great value for money; you don't have to order thousands to get a great deal.