Sure, we're all aware of the importance of colour psychology in a branding situation, but when it comes to choosing the right palette for campaign themes – there are a few more factors to consider.
The psychology of colour is an important part of design, and when marketing your brand, for whatever purpose, a particular choice of colour can send a positive or negative subconscious message to your client.
Lucky for you, here at Silicone Wristbands Direct, our custom silicone wristbands allow you to choose from a wide array of colour choices – providing you with the perfect wristband to aid your campaign!
Here's a few top tips to keep in mind when colouring your wristband to success.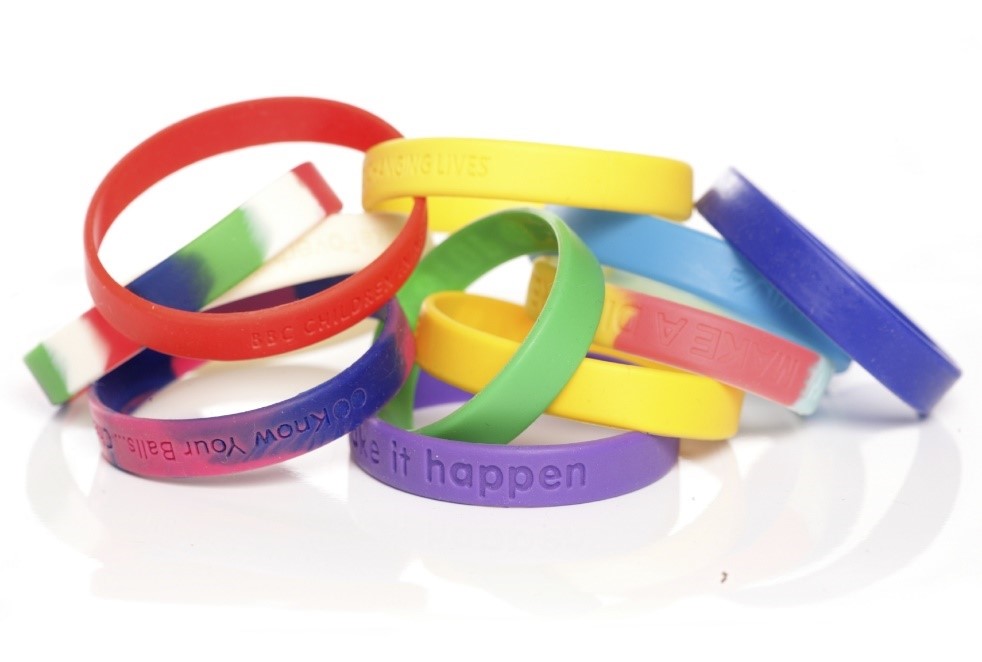 First impressions count
While colour is not the only important ingredient to effective marketing, it is the first thing that draws attention and leaves a lasting impression, so don't underestimate its power.
Colours are understood by the subconscious, so be sure to send a message that relates to your market and communicates your brand.
What do you want that first impression to say?
In order to promote an honest and a trustworthy brand, use a shade of blue.
If you're passionate about your brand, use red, although only in slight application as too much red can also communicate the opposite message and highlight danger or negativity.
For fresh-minded brands, consider yellow due to its playful nature, promoting a light-hearted and contemporary message.
The use of green is immediately related to environmentally friendly issues, and is the perfect colour for eco-focused companies and brands.
For a more luxurious aesthetic, consider using black, gold, silver and purple shades as these boast sophistication and high quality.
For a classic monochromatic brand, consider black as a main colour, with white detailing to add a touch of power and elegance to your design.
What mood do you want your marketing to convey?
People often buy based on emotion, so use this as a way to justify their purchase with logic. For a variety of moods, consider:
Light-hearted – use pastels, such as yellow, mint green and pale blue
Serious – use blue or indigo
Exciting – use red
Compassionate and caring – use pink, green, magenta or turquoise
Happy – use orange or yellow
Creative and imaginative – use pink, yellow or purple
Who is your target market?
Consider your target market in relation to your colour choice, and what type of market will be the ones purchasing your product.
Sometimes, the user of a product will not be the one buying it, so be sure to use the appropriate colours within your product to attract the user, and use the appropriate colours in your advertising or promotions to attract the purchaser.
Here at Silicone Wristbands Direct, we are proud to be one of the leading providers of silicone wristbands, and offer a wide range of design options to provide you with the ideal wristband to suit your purpose. For more information, please do not hesitate to contact our friendly and creative team on 01524 848382 today!
Try Our Silicone Wristbands Designer Tool