Silicone rubber is a highly versatile manufacturing material that is often found in a wide range of products, but its uses are not confined to the industrial sector.
Silicone has become an extremely popular material recently within the manufacturing of rubber-based accessories; including our creative range of silicone wristbands. As specialists, here at Silicone Wristbands Direct, we thought we'd let you into a few little manufacturing secrets that show you initial wristband designs result in the exciting marketing tool you use to promote your brand!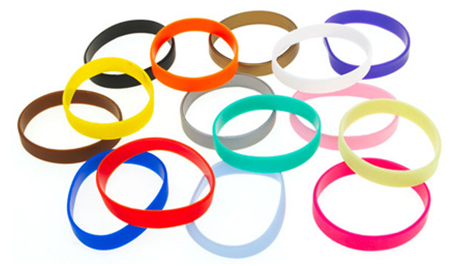 Let's Start with the Material…
Firstly, silicone is a fantastic material that is easy to customise and offers an easy-to-wear and quality final product. Design modifications allow customers to choose from a wide range of options, from type embossing to band thickness and colour detailing – whatever your design, we are able to create it!
Although many bracelets are still produced with other synthetic rubber materials, our decorative and professional wristbands are made specifically from silicone. Silicone is a bonded polymer substance with numerous elastomeric qualities, making it both water resistant and flexible – perfect for wristbands!
The Process
Silicone rubber is typically extruded into strips or tubes or varying thickness, which when compression moulded – are set into the familiar round cross-section of a bracelet. Colour dyeing is usually a pre-moulding process, so you can choose whatever colour you wish to suit your brand. A silicone wristband offers high levels of elasticity, highlighting their 'one size fits most' sizing. Most wristbands are produced with a circumference between 7 and 8.5 inches, and their width is customisable.
Make it Your Own
Much of the rubber wristband's popularity stems from its capacity to display text and its customisable options. Whether you wish to display a logo, headline or business slogan – a range of options allows you to design the band to suit your theme.
These options come in a variety of styles, including:
 Debossed –Debossed words are recessed into the silicone via an imprint mould, providing an engraved appearance.
Filled – The most popular type of customised band. The letters are engraved and flooded with a contrasting colour ink.
Embossed – A great low cost customising choice. Type of image is screen printed on to the band, giving sharp detail for more complex logo designs.
Printed – The type of customised text is raised, allowing lettering to be left plain or screen printed with a contrasting colour.
Segmented – These wristbands are made up of three colours, creating a segmented appearance. Bands can be customised with debossing, embossing or printing. Great for themes with several colours that need to be incorporated.
Glow – These wristbands are made up of translucent silicone, and can be customised by debossing, embossing or printing. Great for evening events!
Swirl – These wristbands are made up of two colours that are blended together in order to create a swirl effect within the silicone. Can be customised with embossing, debossing or printing.
Un-printed – These wristbands are manufactured using a blank mould, and although there is no message or logo – customising options include a range of Pantone colour choices at no extra cost!
Don't forget to check out our Band Builder page via our website, it's a simple and easy way to design and create your perfect wristband!
Here at Silicone Wristbands Direct, we are proud to be one of the UK's leading providers of promotional and charity wristbands, and our friendly team are always happy to answer any questions you may have! So for more information, or to speak to one of our helpful team – please do not hesitate to contact us on 01524 848 382 today!
Try Our Silicone Wristbands Designer Tool