Organising a big event? Custom silicone wristbands are a cost-effective choice to use as an alternative to a paper ticket or even as a way to verify a world record attempt! But when the party's over, don't leave your wristbands to gather dust – try recycling them in creative ways instead.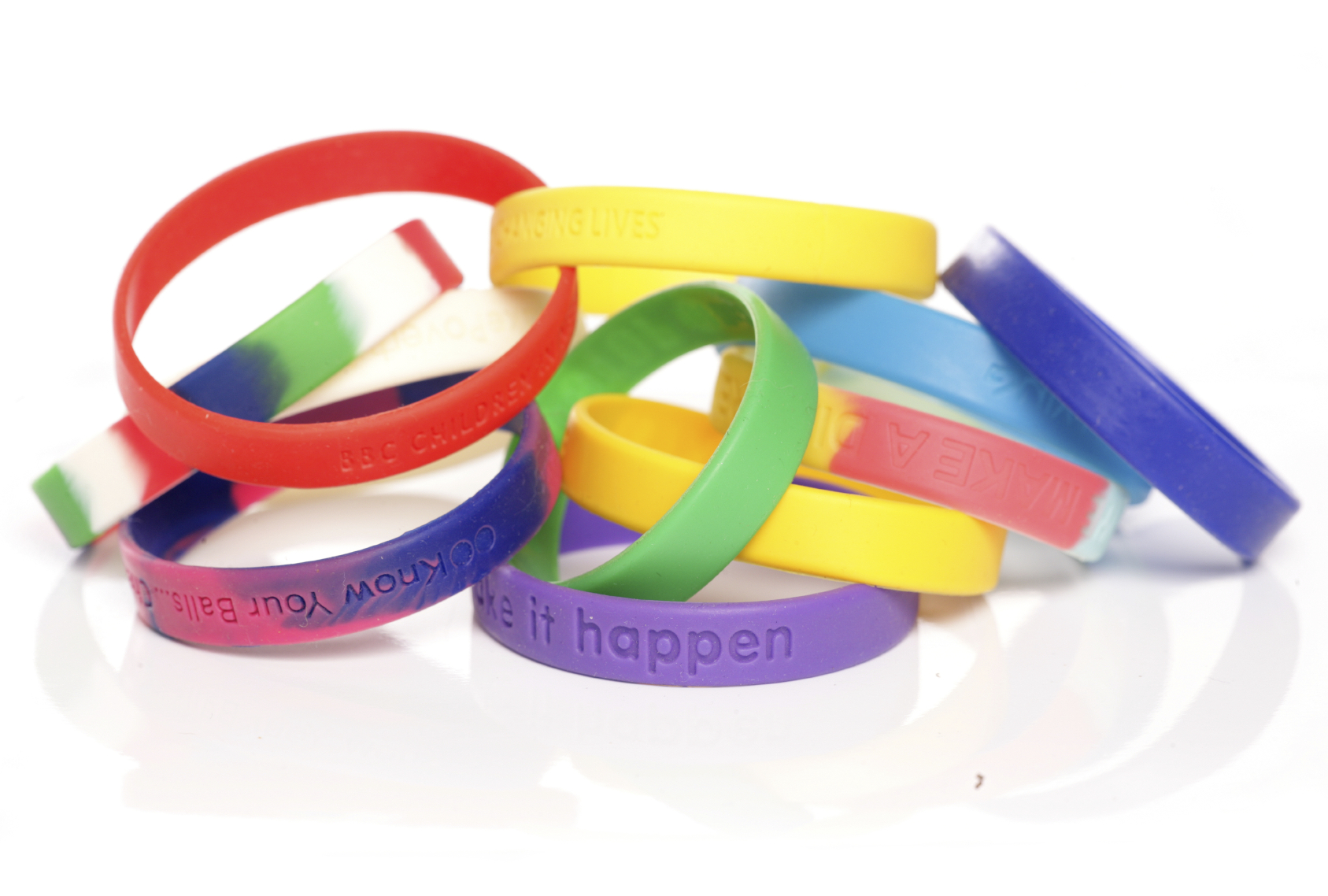 Old Wristbands for Tidy your Cables
Why pay out for expensive cable organisers when silicone wristbands can do the job even better? Simply bundle your cables together and then secure by twisting a silicone band around them. The different colours can be used to distinguish between the different types of cables from your TV or computer.
Handy Kitchen Helpers
Do you find bottles and jars difficult to open? Then try placing a silicone wristband around the top to give you extra grip. Or slip a silicone band around each end of a chopping board to hold it securely in place – this works brilliantly for wet and slippery surfaces. Put an end to those half empty bags that scatter their contents all over your cupboards by wrapping them securely with a silicone band or two.
On the Go
Travel mug too hot to handle? Then wrap it with multiple silicone bands for a firm grip – you'll add extra insulation, too! The same trick also works with your mobile – just stretch the band to fit around all four corners of your phone. This also acts as a handy bumper if you drop your handset. When you're travelling it's easy to pick up the wrong suitcase so take a tip from your Crossfit box or gym and use a brightly coloured silicone wristband for suitcase ID.
Memory Bands
It can be difficult for young children, people with learning difficulties or adults with Alzheimer's to remember certain details. Use a Sharpie pen to write phone numbers and other contact details on the inside of an old wristband that's easy to wear. Or why not take the idea one step further and order personalised wristbands for easy ID?
If you need durable, desirable and recyclable silicone bands to make your next event even more sustainable, then contact us today for more information and we will be happy to help.
[vc_row content_placement="middle" thb_divider_position="bottom" css=".vc_custom_1592477292124{background-color: #f6f6f6 !important;}"][vc_column width="2/3″ css=".vc_custom_1592477645861{margin-left: 25px !important;}"][vc_column_text]
Try Our Silicone Wristbands Designer Tool
[/vc_column_text][vc_btn title="Design your product" shape="square" color="danger" size="lg" link="url:%2Fshop%2Fpersonalised-silicone-wristbands%2F%3Futm_source%3Dblog%26utm_medium%3Dcta%26utm_campaign%3Dsilicone|||"][/vc_column][vc_column width="1/3″][thb_image alignment="aligncenter" image="6112″ img_link="url:%2Fshop%2Fpersonalised-silicone-wristbands%2F%3Futm_source%3Dblog%26utm_medium%3Dcta%26utm_campaign%3Dsilicone|||" img_size="medium"][/thb_image][/vc_column][/vc_row]