Silicone wristbands never used to be as popular as they are now. In fact, there once was a time that most 20-somethings may remember where wristbands weren't widespread at all, let alone used in charity fundraising.
So, how did a simple silicone wristband change the face of charity marketing and fundraising? We'll have to time travel back 13 years to find out!
The Beginning of the Charity Bracelet Phenomenon
In 2004, the world saw the introduction of the Livestrong bracelet, which was a collaboration between Lance Armstrong and Nike as a promotional, fundraising band for the Livestrong Foundation, which exists to support people who have been affected by cancer.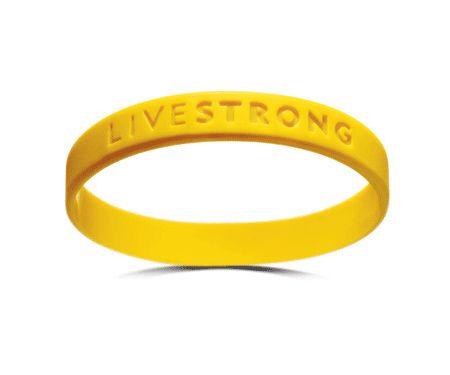 Following the explosion of interest by the public, other charities cottoned on to this incredible wristband hype, and it wasn't unusual to see people – especially children – walking around with arms full of various different
charity wristbands
.
The reaction to such a simple item was incredible, causing many suppliers of Livestrong bands, in particular, to sell out almost immediately as new stock came in.
While the trend is nowhere near as big as it was back in 2004, silicone wristbands still play a huge part in many charity marketing campaigns.
Why Are They So Popular?
Many people don't understand why silicone wristbands are so popular, especially as they don't appear to offer the wearer anything particularly 'useful' like promotional pens, keyrings and USB drives do. However, the major selling point of these wristbands was that they appealed to everyone and, what's more, they became a fashion item for a lot of young people, too.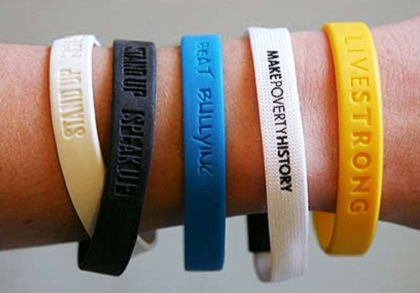 It can be quite difficult to get children and young people engaged in fundraising for charities, mainly because they don't have their own source of income. However, the silicone wristbands provided a way to target people of all ages easily with very little adaptation needed, with an
affordable price tag
that even children with £1 pocket money can afford.
This brought a whole new approach to charity marketing. While children and younger adults may have simply worn the bands for fashion reasons, it still gave each of the charities more exposure. As more charities joined the wristband craze with different colours, wristband collectors would donate to the charity through buying the wristband and have another bracelet to add to their collection.
It can usually be hard to target so many different audiences, especially when you are trying to fundraise for a charity, but with a wristband, you can pretty much cover all your bases – even businessmen and women were investing in charity wristbands!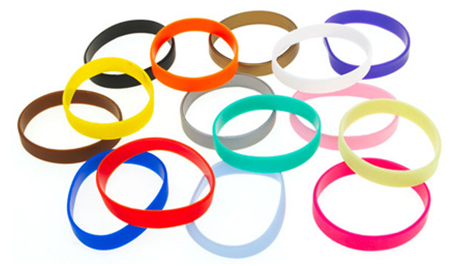 While it's not advisable to boast about your donations to charity, wristbands provide
a fashionable way to show your support
. Much like poppies sold by the Royal British Legion for Remembrance Day, your donation gives you access to a piece which not only looks great but gives you a way to show your support for the cause, too!
Here at Silicone Wristbands Direct, we want to help newer charities get on board with one of the biggest marketing products available to charities. We're even here for older charities who are looking to update their wristbands!
We've come a long way since the wristband craze of 2004, and we can't wait to see what the future holds! If you're looking to bulk order personalised silicone wristbands for your business or charity, please feel free to get in touch with us today – our team will be more than happy to help!
[vc_row content_placement="middle" thb_divider_position="bottom" css=".vc_custom_1592477292124{background-color: #f6f6f6 !important;}"][vc_column width="2/3″ css=".vc_custom_1592477645861{margin-left: 25px !important;}"][vc_column_text]
Try Our Silicone Wristbands Designer Tool
[/vc_column_text][vc_btn title="Design your product" shape="square" color="danger" size="lg" link="url:%2Fshop%2Fpersonalised-silicone-wristbands%2F%3Futm_source%3Dblog%26utm_medium%3Dcta%26utm_campaign%3Dsilicone|||"][/vc_column][vc_column width="1/3″][thb_image alignment="aligncenter" image="6112″ img_link="url:%2Fshop%2Fpersonalised-silicone-wristbands%2F%3Futm_source%3Dblog%26utm_medium%3Dcta%26utm_campaign%3Dsilicone|||" img_size="medium"][/thb_image][/vc_column][/vc_row]