Are you an athlete and entrepreneur and would you like to organise a successful sporting event? Organising a sports event, be it a triathlon or other popular race, is not easy. You need to consider many aspects, take care of all the details and be clear about exactly what you want to do. If you follow our advice to organise a triathlon, your event- will be a success!
1. Think about the day, the place and the distance
This must be the first decision and must be well thought out. Why? Imagine you have not sought enough information about the day of the event. You choose a day that in principle is fine, but it turns out that when you already have all the necessary permits, you realise that on the same day there is another event that will take centre stage. It would be a shame!
As for the choice of location, try to choose a place where the landscape and its surroundings are inviting. A race with good views is much more appealing! In addition, if the city where you want to organise your triathlon enjoys some recognition it can also be a great advantage.
Finally, the distance. Depending on how long you want your race to be, you can choose between these triathlon distances ordered from least to greatest difficulty:
Super Sprint
Between 200 and 500 meters of swimming
Between 6.5 and 13 kilometers of cycling
Between 1.7 and 3.5 kilometers of running
Sprint
750 meters of swimming
20 kilometers of cycling
5 kilometers of running
Olympic Triathlon
1.5 kilometers of swimming
40 kilometers of bicycle
10 kilometers of running
Medium Distance Triathlon
3 kilometers of swimming
90 kilometers of cycling
42.2 kilometers of running
Long Distance Triathlon
From one to 4 kilometers of swimming
From 100 to 200 kilometers by bike
Up to 42.2 kilometers running
Ironman
3.8 kilometers to swim
180.2 kilometers by bike
42.2 kilometers running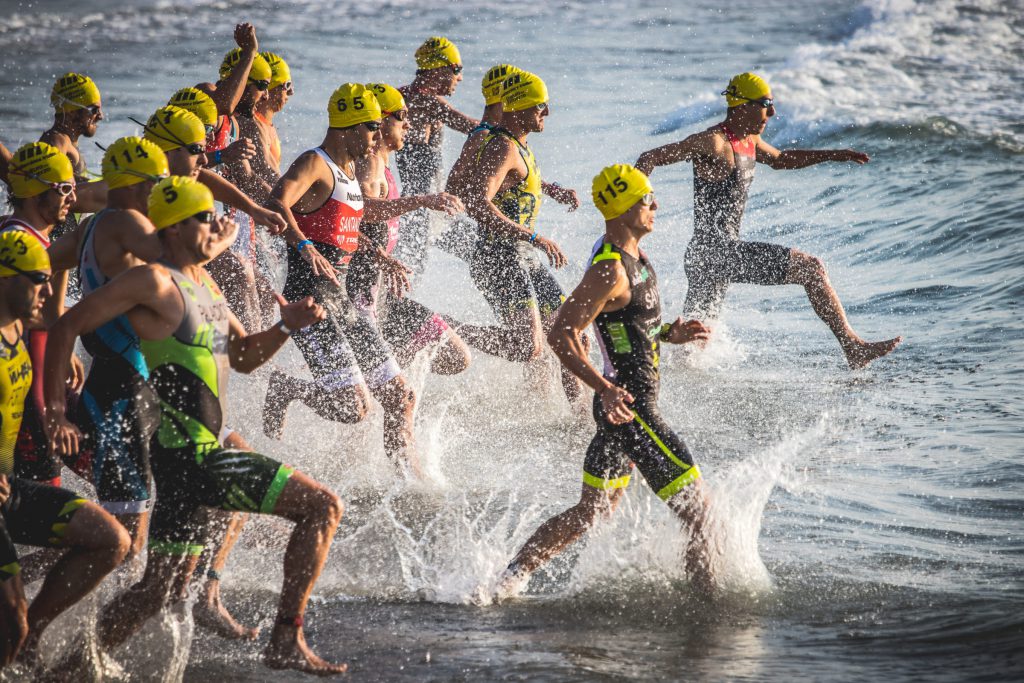 2. Ask the city council for permits
This step could be done while you are investigating the first. Depending on the number of participants and the location where the event will take place, you will need some form of permit to host the event legally in your chosen town or city.
In addition, it is also important to consider in which area you want to perform the triathlon: mountain, town, big city or countryside … Think about whether it will be necessary to close the streets or if it will affect the traffic of your chosen location. All this is a process of planning that you must carry out, it needs approval times, and without these permissions, you will not be able to carry out your great event.
3. Look for sponsors
Look for sponsors that can be useful not only as financial support, but also to strengthen your brand image.
Through sponsorship, you can get the money needed to finance the organising of your triathlon. It is important that the collaborating sponsors that participate share the values ​​you want to convey with your triathlon. If your sponsor does not share the same values and principles you do, they won't be positive for your brand. You need to build trust!
4. Communicate the event
Have you heard the saying 'what does not communicate, does not exist'? If you have prepared everything to organise the best triathlon but nobody knows, it will be of little use: you must tell the world why they should sign up to your event.
Communication through social networks is essential. Perhaps use digital marketing such as Social Media, Adwords or email marketing … The more contact points there are with users, the more possibilities to attract your audience, but always in a consistent way.
On the other hand, it is also important not to focus all efforts solely on digital media; traditional media continues to play a fundamental role. For example, it would be a good idea to appear on a radio program specialising in sports or even carry out an outdoor advertising campaign with posters and leaflets.
5. Supplies
Water, isotonic drinks and fruits cannot be lacking in the organisation of a triathlon. You must determine the refreshment points, and you will have to make a call to find volunteers to help out at the points, and help with the organisation on the day of the event. Use your social networks!
6. First Aid
Can't be missing. We do not want scares on the big day, but in the event that problems arise you should be prepared with appropriate First Aid support. This is likely to be a requirement of your insurance cover and permits in any event. However, plan in good time.
7. Medals for all participants
Finishing the triathlon will be a challenge for the participants; reaching the finish line will be a mixture of feelings of tiredness, fulfilment and joy … All participants deserve to be rewarded!
Custom medals will help create a sense of pride in all participants; they will hang it up in their home and always remember that special day in which they participated in your triathlon.
You have many options on our Custom Medals Direct website! Find out more.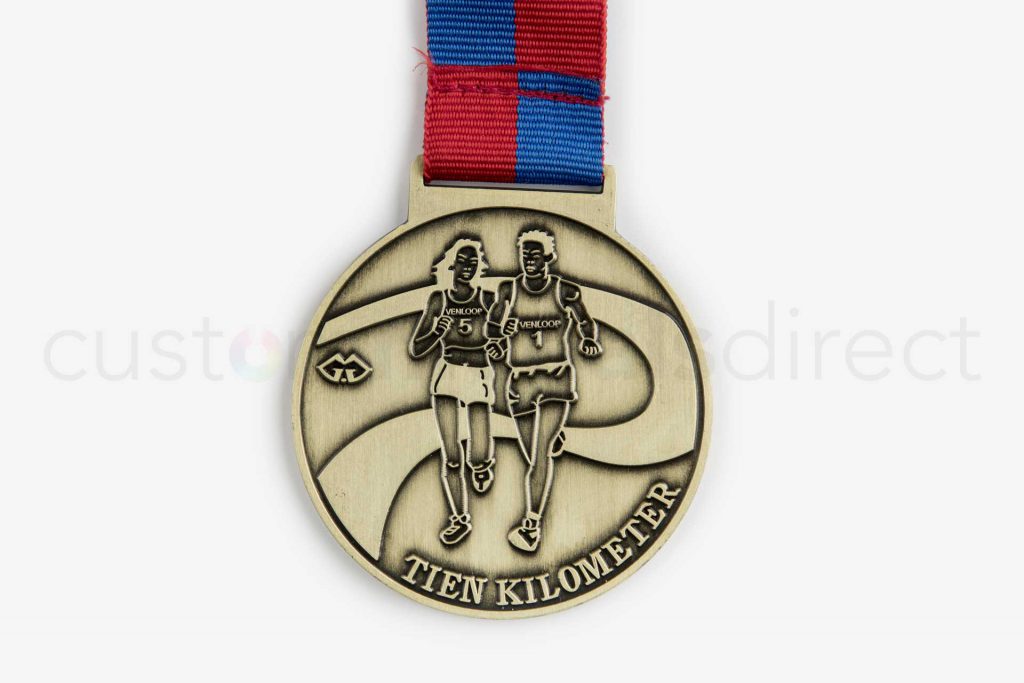 8. Merchandising
Custom medals will be a great keepsake – perfect for creating lasting memories of your event.  However, you can still do much more to make your event even more memorable. Have you thought about other promotional merchandising?
It is increasingly fashionable to wear fabric or sillicone wristbands that are a reminder of a special day, and in triathlons, this trend is very popular. At Web Products Direct, we encourage you to give personalised fabric wristbands or silicone wristbands to all participants with the name of the race, its logo and corporate colours. It will be a nice touch that athletes will wear proudly. Surely they will want to accumulate all the custom fabric wristbands of the following editions!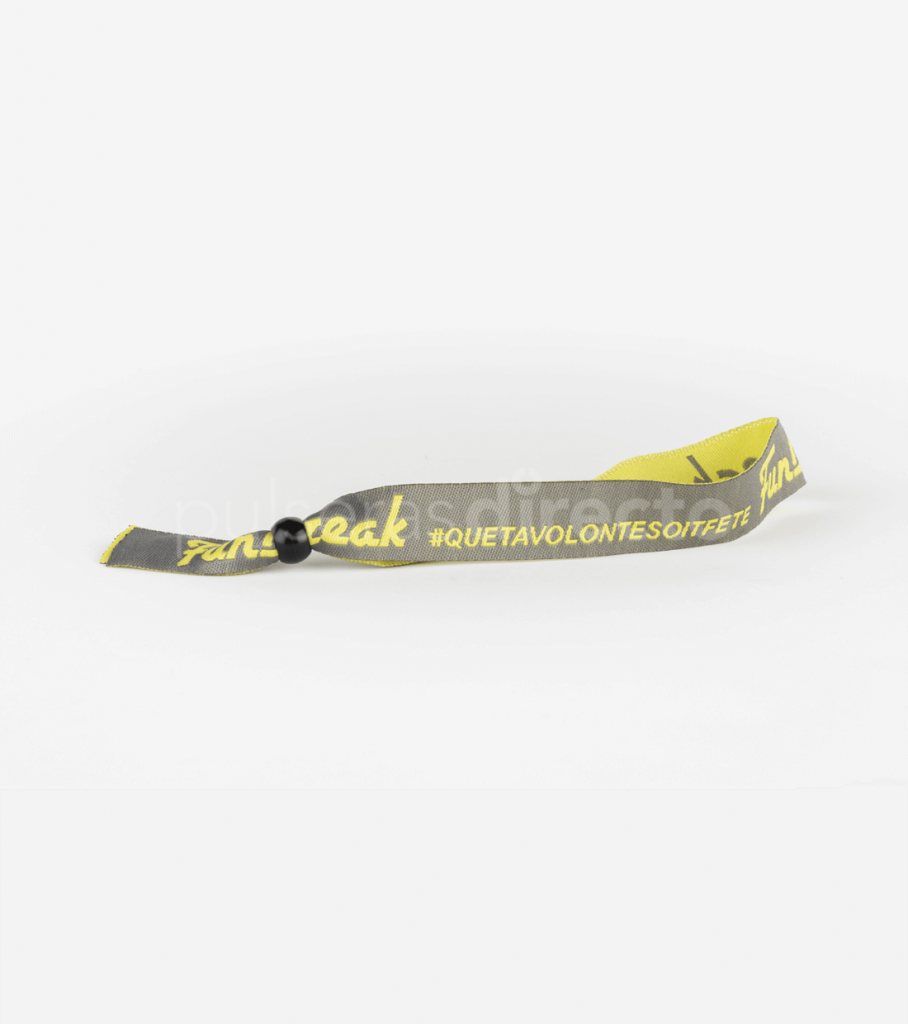 Now, when considering organising a sporting event, maybe it attracts more attention to organise a popular race, so we take this post to tell you the differences with the organisation of a triathlon.
Main differences between a triathlon and a popular race
The number of disciplines: While triathlon brings together swimming, cycling and running, the popular race is usually limited to running.
The price: Triathlons are usually more expensive for the athlete, on the other hand, in popular races the inscription is usually symbolic and is intended for social causes. For those who organise the race, perhaps the cost of triathlon is higher, but the benefits are also higher.
The number of participants: the registration price sets an entry barrier. In a popular race more people usually sign up.
With all this, at Web Products Direct we encourage you to dream big! We will help you make everything perfect with our tips to organise a triathlon and our custom medals. If you have any questions about your design and order, do not hesitate to contact us. Our team of experts will gladly help you!
By the way, if yours is more about organising obstacle course (OCR) events we have the perfect post for you.