When talking ab
Car air fresheners have come a long way from just being simple odour eliminators. With the advent of customisable designs and scents, they have become versatile tools that can be used in various creative ways. To help you get the most out of this interesting gift, we'll explore some of the unique ways you can use car air fresheners, especially when they're crafted with precision and quality.
Our premium car air fresheners are made using a top-notch board with a minimum of 2 ml of oil. This ensures that the freshener's scent lasts longer than your usual off-the-shelf variants. We take pride in creating high-quality air fresheners that you would be thrilled to share with others.
Customise with Coloured Elastics
We offer a wide range of coloured elastics, allowing you to match the air freshener to your car's interior or even your mood. It's a small detail that can add a pop of colour to your vehicle.
Link the Scent & Shape to the Occasion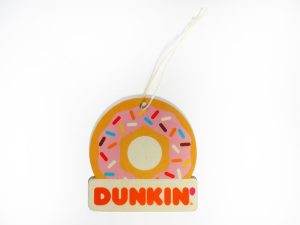 Why not link the scent of the air freshener to your reason for buying? For instance, if you're celebrating a wedding, opt for romantic fragrances like roses or jasmine. Or, if you're promoting a summer event, choose a tropical scent like coconut or pineapple. In addition to the variety of scents, we also provide a wide array of shapes that can be linked to your reason for purchasing. For example, if you're promoting a pet shop, a bone-shaped air freshener could be a fun and relevant choice. To make your air freshener truly unique, we also offer complimentary artwork creation. Whether it's a business logo or a personalised message, we'll help bring your vision to life.
Innovative Ways to Use Car Air Fresheners
Here are some ingenious ways our customers have used car air fresheners:
Promote an Event: Hand out custom air fresheners as promotional materials in the lead-up to an event.
Celebrate Completion of an Event: Use them as unique mementoes for participants after they've completed an event.
Save the Date: Send out air fresheners as creative 'save the date' reminders for special occasions like weddings or christenings.
Business Promotion: Businesses can use customised air fresheners as part of their marketing strategy, showcasing their logo and contact information.
Quality Show-Off: Car enthusiasts can use luxury scent air fresheners to show off the quality of their car.
Humorous Reminders: Fun messages like "You're going on holiday soon, keep going!" can serve as light-hearted motivation during long drives.
Achievement Reward: For businesses, air fresheners with messages like "I completed all my tasks this month" can be used as unique employee rewards.
So, whether you're looking to promote an event, celebrate a milestone, or simply add a touch of personalisation to your vehicle, consider using car air fresheners.
With our wide range of customisation options, you're sure to find something that fits your needs perfectly. Order yours, online today!