Ever since the phenomenal success of the iconic yellow Livestrong silicone wristband in 2004, these simple accessories have been a must have marketing item. Cleverly combining fashion and promotion, personalised wristbands make a positive and powerful impact.
They're Hard-Wearing and Durable
Silicone is used in a wide range of industries thanks to its extreme durability. It repels water, resists microbial growth, and can be moulded into an infinite variety of shapes. Silicone won't degrade when exposed to UV light and can be tinted to whatever colour you want to support your charity campaign or your brand. And choosing a de-bossed design means your message will last the full lifespan of your personalised wristband.
Personalised Wristbands are Fun to Wear
One of the reasons silicone wristbands are so popular is that they're fun to wear. You'll find that your target audience are eager to pull on your wristband and wear it at all times, creating hundreds of impressions wherever they go. Remember, wristbands went viral long before YouTube and Twitter were creating marketing buzz!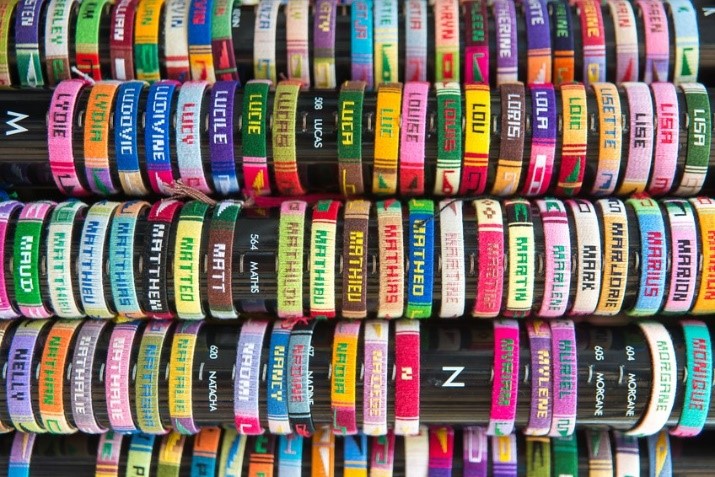 They Make a Great Freebie
If you're using more expensive promotional products in your marketing mix like powerbanks and wearables, it costs very little to throw in a couple of custom silicone wristbands. By reinforcing brand awareness across a range of promotional items, you'll create brand loyalty and buy into the 'coolness' that is typically associated with wristbands.
They Add Depth to Your Marketing
Who would have thought that a simple silicone band could be such a powerful marketing tool? And yet a well designed, personalised wristband with a strong message can add real depth to your marketing mix. Incredibly affordable, attractive and with huge scope for personalisation, wristbands are like the holy grail of marketing products with a proven ability to reach far beyond their recipient.
RFID Wristbands are also Customisable
Differentiating yourself from the competition should be a key goal of your marketing strategy and affordable silicone wristbands allow you to do just that. With an almost infinite range of possibilities for unique combinations of colour and message, your wristband will effortlessly stand out. Invest in RFID wristband technology and you'll put the power of contactless payment on your customers' wrists.
If you want to know more about adding silicone wristbands to your marketing mix, then contact us today for your free sample.
[vc_row content_placement="middle" thb_divider_position="bottom" css=".vc_custom_1592477292124{background-color: #f6f6f6 !important;}"][vc_column width="2/3″ css=".vc_custom_1592477645861{margin-left: 25px !important;}"][vc_column_text]
Try Our Silicone Wristbands Designer Tool
[/vc_column_text][vc_btn title="Design your product" shape="square" color="danger" size="lg" link="url:%2Fshop%2Fpersonalised-silicone-wristbands%2F%3Futm_source%3Dblog%26utm_medium%3Dcta%26utm_campaign%3Dsilicone|||"][/vc_column][vc_column width="1/3″][thb_image alignment="aligncenter" image="6112″ img_link="url:%2Fshop%2Fpersonalised-silicone-wristbands%2F%3Futm_source%3Dblog%26utm_medium%3Dcta%26utm_campaign%3Dsilicone|||" img_size="medium"][/thb_image][/vc_column][/vc_row]