To all of us who like sports, we usually like competition. Participating in a race is a wonderful experience in itself. But if when we register, we are given a bag full of useful items and information for the runner then the race organiser earns many Brownie points and it also boosts the credibility and reputation of the race itself. If you are organising a race, maybe you are considering what to include in the runner's bag for promoting your race or sports event? We are going to give you some ideas to configure your perfect runner's bag:
Custom t-shirt or jersey
It's a classic. There are races where they are given as a prize to the finisher. There are others in which they are given in the inscription bag itself. There are even those with two t-shirts!
But at the end of the day, there are two things that really matter: design and quality. Years ago it was normal to give cotton T-shirts with cheap screen printing. Now more and more races have a unique design for each edition, very carefully thought out, and of course in a technical running style for those that also ride bikes. We know you like your triathlons and Iron Man competitions! In some races, the quality of the shirt may even be to a higher standard than that worn by the runners themselves!
Neck warmer or tubular scarf
This garment has many commercial names but generally, we know them as neck warmer or tubular scarf. Without a doubt, a highly versatile garment for outdoor sport. In fact, we see below the wide range of uses: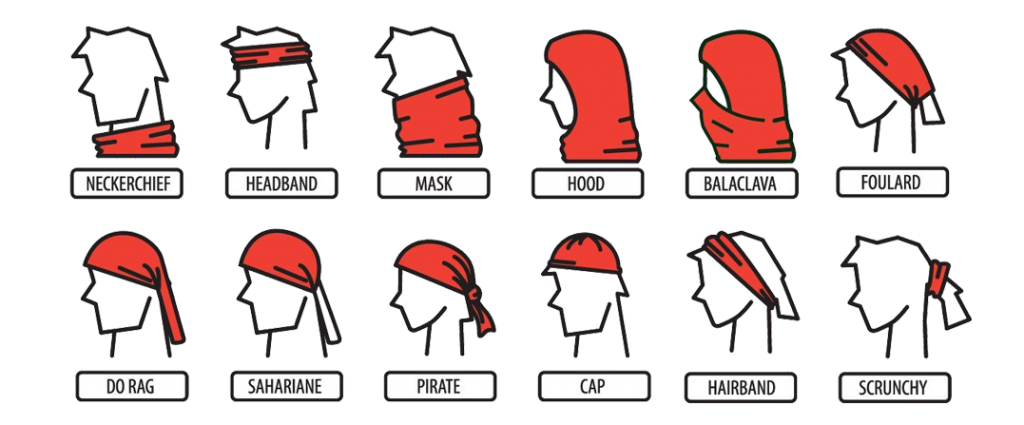 The neck warmer is increasingly becoming popular in the runner's bag and a sought after gift. They are often more popular than t-shirts because t-shirts have been so popular people have lots of them already. In winter you may want to wear the neck warmer every day but they are also great to keep the sun off your head on very hot days. Neck warms are easily customizable and therefore an ideal promotional item.
Customised promotional socks
Another fashion item in sports. Socks? Seriously? But if they just any old socks then probably not too appealing. But thanks to original and creative designs, they are once again becoming a very popular promotional item. And yes, many race organisers are choosing to include socks as a nice promotional accessory that brings a touch of originality and distinction to the bag of a fully equipped runner, cyclist or triathlete.
Customised promotional caps
Again, another classic. But as the saying goes: "classics never die". And at the end of the day, we can design the style of cap that best suits our event and race branding. It can be full cap or just a simple visor which athletes often find cooler for the summer.
Other customised promotional equipment
Here we can include a wide range of other promotional items for a sport event depending on the event and all can easily be customised with event branding. The athlete can then use this all year round constantly reminding himself and others about your great event so they sign up next time!

It can be a variety of bags and sacks, wristbands, bags, bum bags, race number belts, hats, gloves, arm and leg sleeves the options are endless. All customised with the race event and branding and suitable for different budgets…so something for every event organizer!
So, if you want your event to be a great success, then you really need to be including promotional items in the runner's bag as they are now expected!
Personalised fabric or silicone wristbands
A personalised fabric or silicone wristband can also be used for the runner to remember the race weeks and months. A treasured reminder warn with pride – "yes I was there"!
However, they are also perfect for managing access to the race area and start line boxes – only those wearing the unique fabric wristband are authorised to register at the start. This avoids the swapping of race numbers and as they are highly visible and recognisable makes access control easy.
On the other hand, silicone wristbands can serve as a promotional gift in the bag for those registering to enter or in recognition of a job well done for those that take part or finish.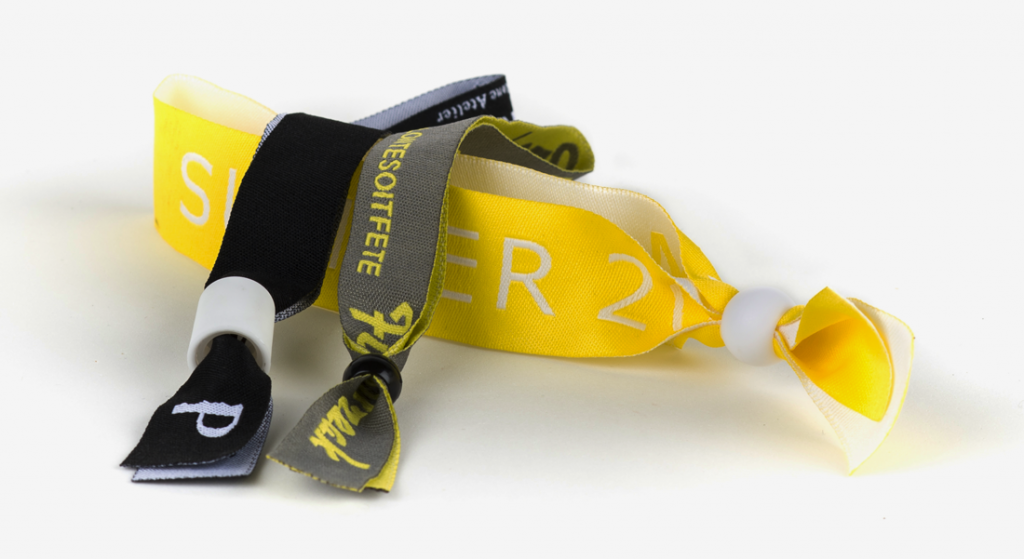 Customised Medals
Whilst we are talking about gifts for finishers, this will undoubtedly be the most precious and symbolic gift of all a race organiser can hand out to those than finish and successfully complete the race. A unique customised finishers medal will be worn with the same pride as a medal given to the winners! It is just as important to reward effort, commitment and dedication as it is to reward winning.
The vast majority sporting events award medals and trophies plus other prizes to the winner or winner of each category. But if you really want to make your race memorable, award every finisher with a finishers medal and celebrate in their success. For a modest addition to your race budget, your sporting event will be remembered among the best of the season and keep competitors coming back year after year.
Of course, it must be a personalised medal with the race logo and branding to give it maximum impact. In the same way, the ribbon has to respect and complement the race colours and again is easily customisable to include the race event branding.
Sport Nutrition
There is increasing awareness of the importance of nutrition in sports. What to eat before the activity, during and after. As a result, numerous commercial brands have appeared offering their products as promotional items. And sporting events are of course a great showcase for these brands as they directly reach those that use the products.
Therefore, it should be relatively easy to negotiate with nutrition brand suppliers to include their products (e.g. a sample of one or two gels or bars, free of charge in the runner's bag. The options are endless again so shop around to find brands that best represent your race event and values.
The athlete obviously tests it and if they like it will continue to use that product again in the future. And we, as organizers of the race have, no additional cost (just the time to negotiate and arrange delivery) so a very cost effective and popular way to win the hearts and minds of race competitors.
Massage or solar creams
The same as nutrition, creams, sun blocks and similar healthcare products promoting well-known and popular brands are a perfect promotional giveaway and much loved by athletes, whether runners, cyclists or triathletes.
The same principles apply as for nutritional and energy products. It should be easy to negotiate samples with leading brands to include in your race bags achieving the all-important win-win!
Energy drinks and Water Bottles
With drinks and hydration products, it is often a little trickier to negotiate freebies and samples. However, it is still a great idea to include an isotonic drink in the bag, or possibly juice or a smoothie of a well-known brand.
But with the hydration supplier, given the volumes used at refreshment stations and for post-race hydration, expecting it free may be a big ask. However, hydration suppliers are usually happy to discuss sponsorship terms to promote their brand reducing the investment needed in hydration you have to offer competitors.
Brochures (with Discounts)
The runner's bag is perfect to include advertising material and promotions. But beware, the advertising material has to be useful and highly relevant to the competitors. If it does not contribute any benefit to the competitor, it will be tossed aside in 2 seconds flat and potentially lose credibility for the race organiser.
A great resource, therefore, is to offer a discount voucher in the advertising brochure. Those taking part then feel that they are loved and appreciated even after the event ends. Keeping the brochure much longer as a reminder of the products and services offered by those advertising and by the race organisers themselves.
Again, it is always possible to negotiate with advertisers and sponsors to contribute to the race brochure so that this ceases to be a cost but instead something that reduces the overall investment needed to host the event.
The bag itself or backpack
We shouldn't forget the runner's bag itself. It can be made of simple plastic, but we will gain many more Brownie points if we use a canvas bag with straps to use it in backpack mode, or even a small backpack. And again, this simple item becomes a powerful promotional tool when customised with race details, colours, logos and branding for promoting your race event. This way the runner will continue using the useful bag and continue to promote your race as a great event and let others know they took part!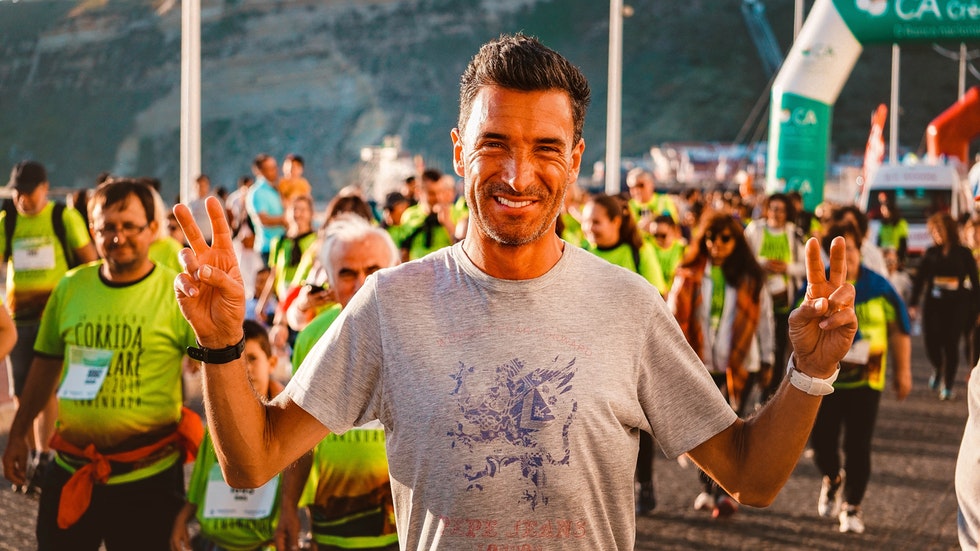 The options are endless
In short, we can include in our runner's bag everything that we believe the competitor will find useful and informative. There are also lots of opportunities to negotiate with well-known and popular brands to help sponsor and promote your event so that you are able to reach a much wider audience and have the maximum number of competitors possible.
And if sponsors are few and far between, we can still provide lots of other relatively inexpensive promotional gifts that complement perfectly the needs of those taking part. Remember, the better the runner's bag, the more fondly will your race be remembered! Believe us as we have been supplying promotional gifts to event organisers for years!
We hope that this comprehensive article has been helpful to give you some ideas of what to include in your runner's bag for your increasingly popular race or sporting event. If you have any questions about any the topic covered in our article or want to know more about customised finisher medals or other promotional gifts, please Contact Us. We'll are always happy to help!
[vc_row content_placement="middle" thb_divider_position="bottom" css=".vc_custom_1592477292124{background-color: #f6f6f6 !important;}"][vc_column width="2/3″ css=".vc_custom_1592477645861{margin-left: 25px !important;}"][vc_column_text]
Receive a personalised quote and digital proof in less than 24 hours
[/vc_column_text][vc_btn title="Quick Quote" shape="square" color="danger" size="lg" link="url:%2Fproducts%2F%3Futm_source%3Dblog%26utm_medium%3Dcta%26utm_campaign%3Dmedals|||"][/vc_column][vc_column width="1/3″][thb_image alignment="aligncenter" image="6530″ img_link="url:%2Fproducts%2F%3Futm_source%3Dblog%26utm_medium%3Dcta%26utm_campaign%3Dmedals|||" img_size="medium"][/thb_image][/vc_column][/vc_row]