Medals, medals, medals. Who knew that there were so many different types of personalised medals?
We understand that if you are not familiar with the different types of medals it may seem a little confusing. So, we have put together a short blog on the key differences to help you get the best choice.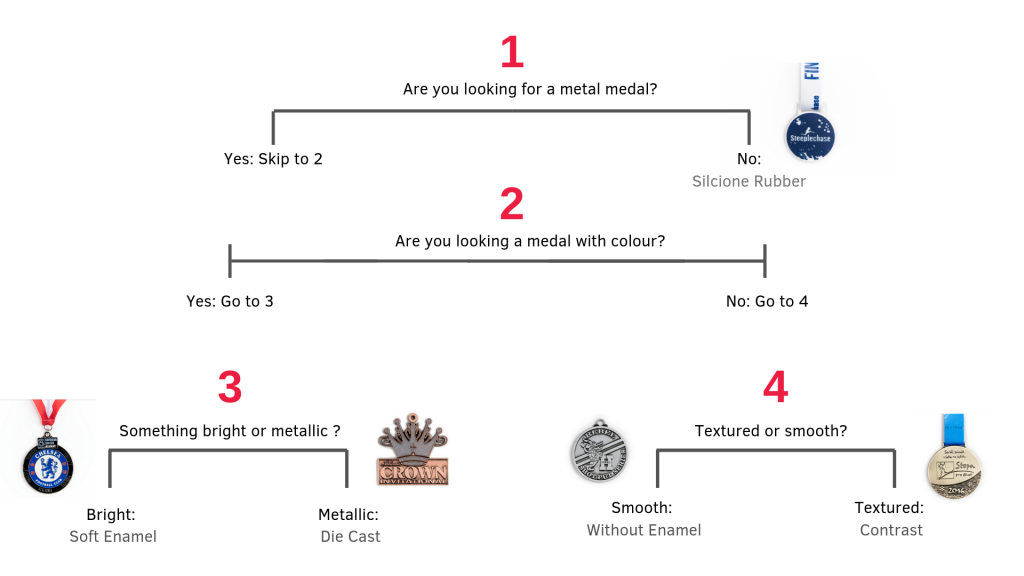 Types of personalised medals
Each of our personalised medals comes with our high-quality stock fabric
ribbon in a colour you can select from our wide range of Pantone colours. Just send us your artwork, design and shade colour requirements. Then we will then come back to you with 24 working hours with a design proof and competitive quotation.
Silicone Medals are our most economic option in our range. Extremely flexible, they can display 2D or 3D designs in the finest detail
Made from organic rubber materials, sourced directly from the 'rubber trees' in South America. Silicone Rubber Medals are famous for their flexible, lightweight and elastic materials. If treated correctly, they are tough and hardwearing (even for the most energetic kids!)
These medals can have a flat faced finished (two dimensional), or a raised and layered finished (three dimensional). You'll also have the choice of a wide range of bright and vibrant colours.
The process of starts by putting glossy substances, called enamel, into the metal die lines. The glossy varnish is placed onto the metal, without polishing, to create a textured and colourful look.
This process is perfect for versatile and truly unique yet less complex designs. The vibrancy from these medals creates an ideal way to showcase your branding at sports events.
Enamel Custom Medals are among our most popular sellers due to their affordability and raised and recessed areas on the design surface
Formed through a process of forcing liquidised metal into a personalised cast. It's during this stage that our crafters will add your chosen colour, shape and design.
With a lengthy production process, our customers normally order in higher quantities to get the economic benefits from higher volumes. However, needless to say, this lengthy process offers exceptional and superior quality to this type of personalised medal.
If you are looking for a simple medal without colour, then our Contrast and Die Cast Medals are the perfect high quality, relatively low cost, medal.
Enamel is the substance that add a pop of colour to our medals. Therefore, if you choose the without enamel option, you will be supplied with metal without added colour. You will still have the option of selecting a bronze, silver or gold base.
The simplicity of a coin without enamel upholds a bold yet sophisticated feel, ideal for more mature crowds.
As the name suggests, these personalised medals display your design against a 'contrasted' background matt, sandblasted background finish. Unlike without enamel medals, this option allows you to apply a two-toned texture. They can also be partially enamelled, filled with colour, for a stylish finish.
---
Why not call our expert team today for design ideas, a quick quote or to place an order.  Call us today on 01524 848382 or reach us via our Contact Page.
[vc_row content_placement="middle" thb_divider_position="bottom" css=".vc_custom_1592477292124{background-color: #f6f6f6 !important;}"][vc_column width="2/3″ css=".vc_custom_1592477645861{margin-left: 25px !important;}"][vc_column_text]
Receive a personalised quote and digital proof in less than 24 hours
[/vc_column_text][vc_btn title="Quick Quote" shape="square" color="danger" size="lg" link="url:%2Fproducts%2F%3Futm_source%3Dblog%26utm_medium%3Dcta%26utm_campaign%3Dmedals|||"][/vc_column][vc_column width="1/3″][thb_image alignment="aligncenter" image="6530″ img_link="url:%2Fproducts%2F%3Futm_source%3Dblog%26utm_medium%3Dcta%26utm_campaign%3Dmedals|||" img_size="medium"][/thb_image][/vc_column][/vc_row]