Every business needs to invest in promoting their brand and products or services to succeed. It does not matter if you are B2B or B2C, your customers need to find you and remember you. Surely right now you are surfing the net in search of the best value promotional products on a budget. We therefore want to give you some ideas of the great value promotional products so that you have a choice. Also, so that you can hit the ground running despite the economic challenges and competitive pressures that the vast majority of us are facing.
How to effectively advertise a business
Historically, it was always the case that leaflet drops and mailshots, radio or press advertising were the most effective traditional way to promote a business. They were media channels that the majority of the population could easily access and it was easy to reach a large number of interested people or target audience.
With the arrival of the internet and the explosion of social media, the focus has shifted to digital because it is seen as an easy way to reach clients who are really interested in what a brand offers. It is easy to measure data, seen as cheaper and more effectively targeted. Some may even have gone as far as saying traditional marketing is dead. But is it really the most effective way for your target audience? Can you honestly be certain your email campaigns and social media posts are engaging your audience?
Take a moment to stop looking at your screen and look around you. Surely, you have a pen nearby, a mouse mat, calendar, pen drive, mug or post-it note. These are everyday objects that can easily carry your promotional message. A perfect free giveaway to your customers to build brand awareness. Visible, useful, a signal you care and it doesn't involve pandering to the whims of Silicone Valley tech giants! Why not choose to create your own original promotional product therefore?
Custom corporate gifts – a more direct way to reach customers
In our opinion, customised promotional products are one of the most effective ways of marketing a brand or product. Designing a promotional product that your client will love and see every day is the best way to win hearts and minds, maintain brand awareness, and keep the customer coming back to you time and again.
There is a huge variety of promotional gifts available for you to design including the popular examples mentioned above.  However, there are even more imaginative options such as anti-theft backpacks, battery-powered coffee thermos to keep your coffee warm longer or even virtual reality glasses!
However, if you are working to a tight budget, we wanted to offer some ideas for everyday objects that we know work well.
USB flash drives
USB flash drives are a great low-cost promotional product and something we regularly sell to our customers. These flash drives offer a large capacity of storage in a compact size. Take the opportunity to add your logo on the outside along with your website or other contact details on the other. It is a really useful gift that your customers can use to quickly pass information from one computer to another or to share pictures.
In addition, it is a good option to save some promotional information about your organisation on the drive itself. Perhaps a digital catalogue or brochure of products in a pdf, a promotional video or a press release of your latest news and events.
Personalised fabric wristbands with a message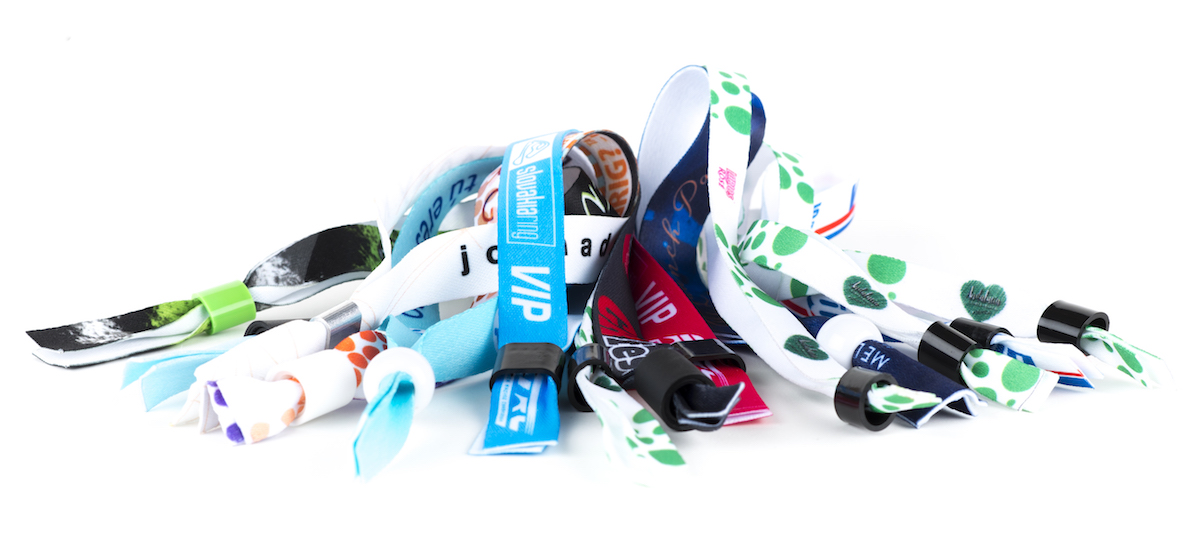 Another option that can even become a good promotional campaign is custom fabric wristbands. You have them of different sizes, styles and closures. They are a good idea that can also be a good option when promoting a business.
Personalise a fabric wristband with a message of support for small companies and add your company logo. Nothing better than to appeal to the pride of belonging to a small group to make your company more visible. Choose a nice color scheme and we are sure if someone sees it on the street they will ask where they can get one too!
Here at Web Products Direct we can help you with the manufacture of personalized wristbands with a message. We are suppliers of customisable Silicone and Fabric wristbands. You can choose between different finishes, printing and closure types in the case of fabric wristbands. You can design your own Wristband with our online design tool or let us know what you like and we will take care of the rest. We offer free set-up and design so we will do all we can to make sure you get the perfect design for you at no extra cost!
Business logo backpacks
Another highly prized promotional gift to include in your portfolio of custom corporate gifts is a backpack or rucksack with your company branding. Ideal for exhibitions and conferences where your customers want to carry brochures and other giveaways they collect.  Far more comfortable for your client and a great way to get your branding seen!
In addition, as with USB drives, they are that type of promotional gift that you then take anywhere. Not something you immediately throw in the bin. Whether as a backpack to go for a walk, go down to the beach or go to the gym, your company logo will be visible wherever they go. A constant reminder of your excellent customer service!
Personalised promotional lanyards
Inexpensive, comfortable to use and with a large surface to add your logo. Personalised Lanyards are the ID card holder that you wear around your neck to hold your ID badge, RFID card or keys. There are lots of colours, styles and types of accessories. We also sell Lanyards with the option of safety breaks to protect those wearing them. They are relatively inexpensive, highly visible and infinitely useful for managing access and security.
Reflective advertising vests
If your business is heavily involved in the automotive and transport sectors, then why not consider personalised reflective vests. It is an item that, in general, is usually used in troubled situations or where security and safety are important and what better time to promote your brand. Choosing this promotional product says to your customers that you are concerned about their safety and welfare and that they can count on your organisation in a crisis. Next time your customer breaks down at the side of the road and has your hi-viz jacket in the boot, they will be very thankful!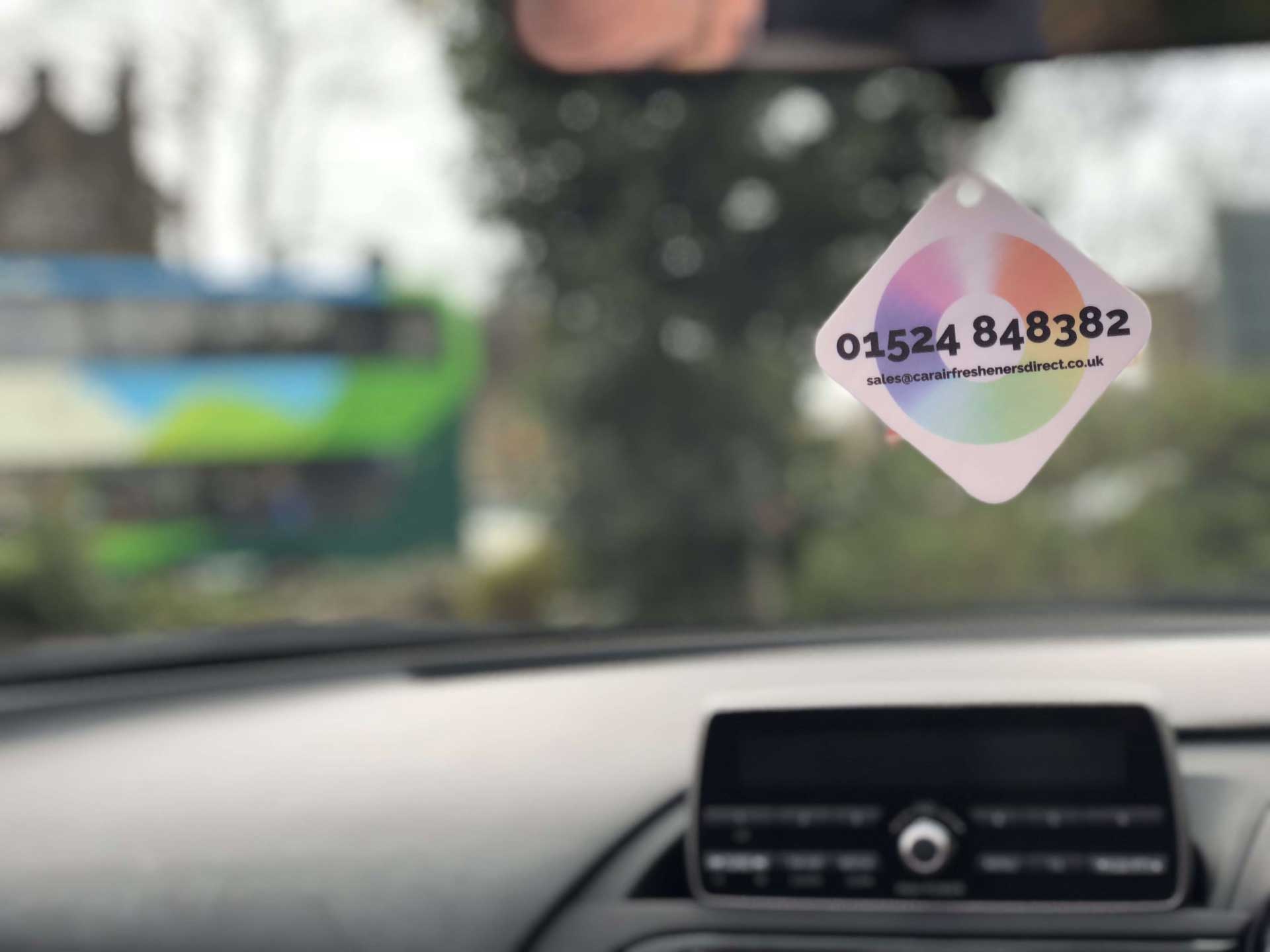 Great value custom Car Air Fresheners
For us, one of the best value and effective promotional gifts are personalised Car Air Fresheners. Let's be honest, we all love Car Air Fresheners especially when we are given one free as a promotional giveaway! The  Car Air Freshener hangs from your customer's rearview mirror, is highly visible and offers a great scent that they will associate with your great service. Car Air Fresheners, in our view, are the perfect promotional giveaway.
"Building brand loyalty mile after mile"
Why do we say this?
Relatively low cost: We have offered you some examples of promotional gifts that are usually the most effective, but you don't need to spend a huge amount of money to offer to your client a gift that they will be excited to receive. A great value custom Car Air Freshener with your logo is not very expensive to manufacture and at Car Air Fresheners Direct we also offer volume discounts, free design and set up and free UK postage!  You only have to let us know how many you need and we will do all we can to work within your budget.
The most customisable option: We have talked about USB sticks, backpacks, reflective vests. All these items have a predefined shape and you cannot make big changes. With a Car Air Freshener, you can create any shape you want or choose from the hundreds of templates we have.  They are incredibly versatile; add a scent to build customer loyalty and choose the shape that you prefer. Perhaps you want a Car Air Freshener with the shape of your company logo or that is associated with your industry or products?
We hope that we have been able to help you in your search for the perfect great value promotional products. We are sure that our best value personalised Car Air Fresheners are the perfect promotional giveaway for your customers. Your clients will be delighted! Easily customised with your choice of economy, premium and luxury Car Air Fresheners and get an instant quote for free. If you have any questions, call us today on 01524 848382 and talk to our expert design team.