Vaping has become a huge thing here in the UK over the past 12 months, with many people swapping cigarettes for the "95% less harmful" E-cigarettes which boast a wide variety of delicious sounding flavours.
The majority of vapers have probably spent quite a lot of money on their kit- after all, it works out cheaper in the long run to invest in a good quality e-cig unit than it does to buy multiple packs of cigarettes over the course of a few years.
With this in mind, vape bands have been created to help protect the tank of your e-cig, as well as make it look incredibly awesome.
What Are Vape Bands?
Vape bands are a relatively new product and look very much like our personalised wristband products, only visibly smaller to fit on an e-cig snugly!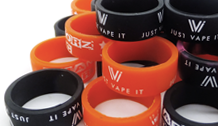 They have been designed to help protect the glass or plastic tanks of an e-cig, just in case they are accidentally dropped so that they don't smash. This is an important part of the unit, so it's important to try and protect it at all costs; we don't want your juice leaking out onto the floor!
Just like our wristbands, they are made with silicone, making them easy to stretch around even the widest tanks available and ensuring that all vapers have access to the benefits that a vape band can bring!
Why Should I Invest?
Vape bands are great promotional items for vaping related businesses. They are a great talking point as they are still so new to the market, so it would be a great opportunity to get your brand noticed by other vapers with very little effort.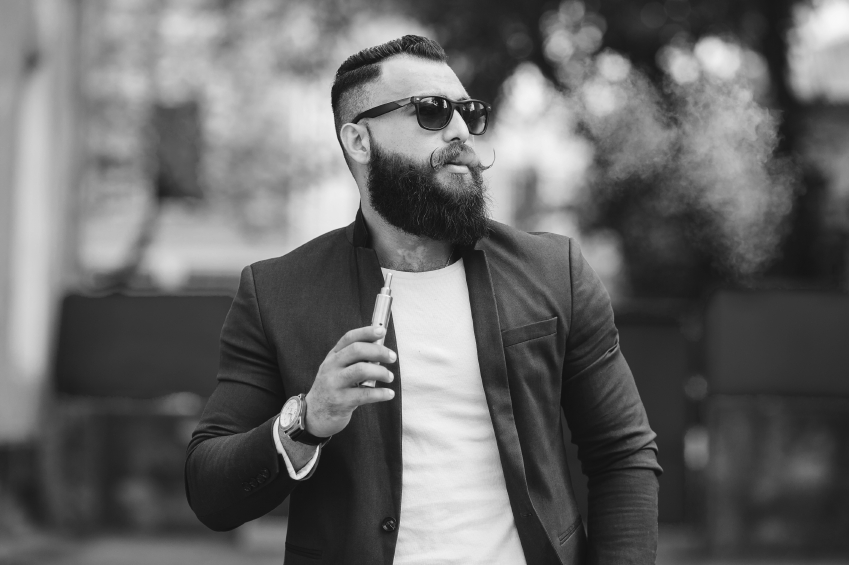 They make great promotional items, especially as you can customise them with your brand's name and colour. Although your customers will probably recommend your services by word of mouth to their friends and family, vape bands are a great way for them to strike up a conversation with other vapers that they may not know!
Why not use them in a giveaway or as a freebie when they have bought a certain amount of your stock? You could also sell them in your store as actual promotional products that people can purchase to protect their tanks.
They are also great for colour coding your stock if you have a variety of different e-cig flavours; you can easily colour code the bottles with a vape band to signify the flavour. So, for example, if you have lime flavoured juice, you could wrap a green band around the bottle with "lime" printed on it, a yellow one for lemon and so on.
It's a great way to help organise your stock, and you'd be surprised how many of your customers will ask you about it!
Vape bands are incredibly useful, and are one of the newer products in our silicone wristband range. If you'd like to find out how they could help your vaping business, or even just your marketing campaign in general, don't hesitate to get in touch with our team today on 01524 848382 or leave us a message or a tweet over on our Facebook and Twitter pages.
[vc_row content_placement="middle" thb_divider_position="bottom" css=".vc_custom_1592477292124{background-color: #f6f6f6 !important;}"][vc_column width="2/3″ css=".vc_custom_1592477645861{margin-left: 25px !important;}"][vc_column_text]
Try Our Silicone Wristbands Designer Tool
[/vc_column_text][vc_btn title="Design your product" shape="square" color="danger" size="lg" link="url:%2Fshop%2Fpersonalised-silicone-wristbands%2F%3Futm_source%3Dblog%26utm_medium%3Dcta%26utm_campaign%3Dsilicone|||"][/vc_column][vc_column width="1/3″][thb_image alignment="aligncenter" image="6112″ img_link="url:%2Fshop%2Fpersonalised-silicone-wristbands%2F%3Futm_source%3Dblog%26utm_medium%3Dcta%26utm_campaign%3Dsilicone|||" img_size="medium"][/thb_image][/vc_column][/vc_row]